Ron Burgundy Covers Taylor Swift's "You Belong With Me" on Podcast
By Nicole Mastrogiannis
March 14, 2019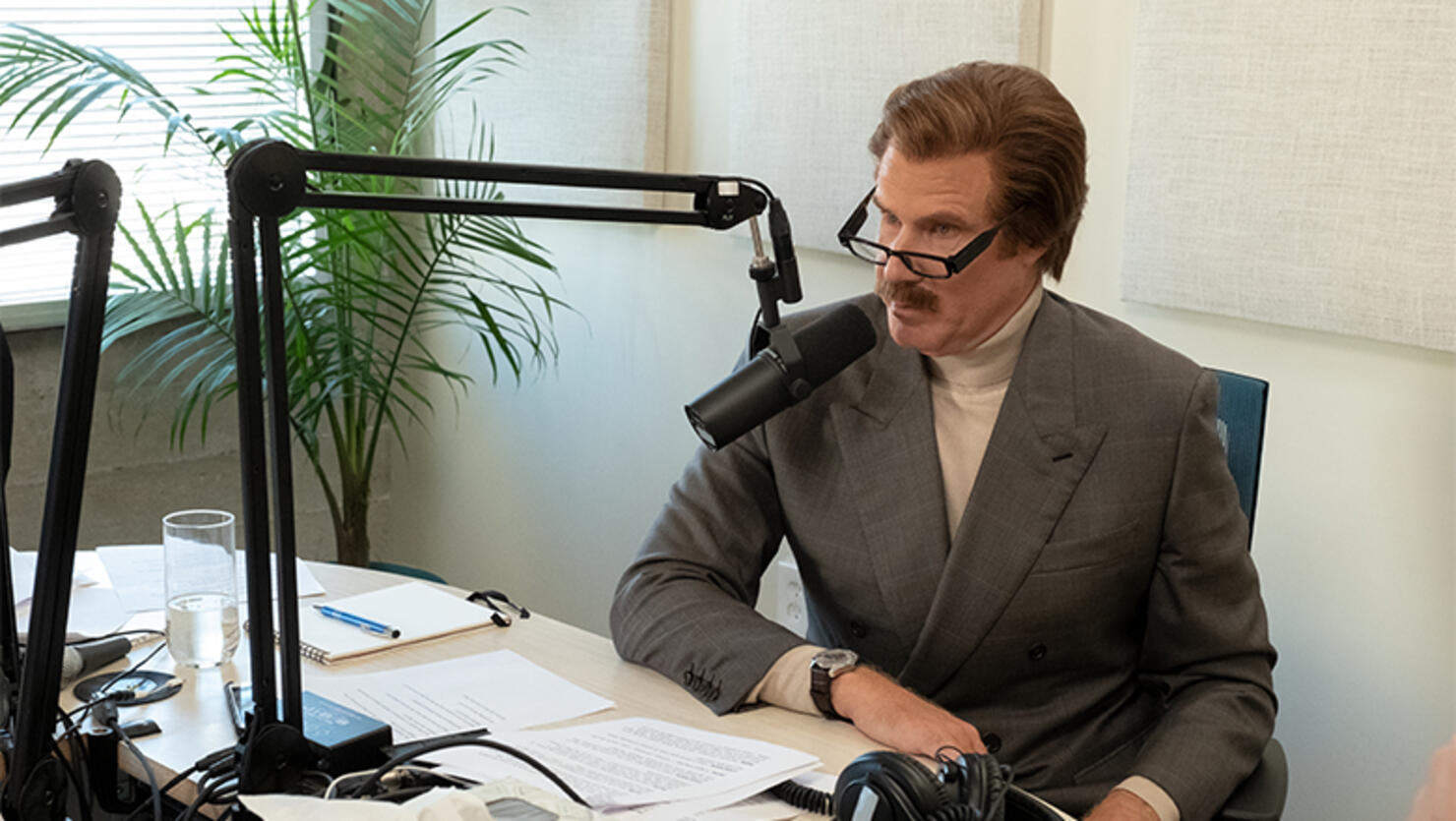 If you've been following along on "The Ron Burgundy Podcast" so far, you may have noticed, the show doesn't really have an official theme song ... until now.
On episode 6 of "The Ron Burgundy Podcast," Burgundy enlists the help of professional musicians to help him come up with the perfect theme song. Joining Ron and Carolina in the studio were keyboard player Tam, guitarist Trevor, a second guitarist named Taylor, bass player Lee, and drummer Griffin.
Getting things started, Ron thanked the group of musicians for coming in to help him with the theme song. He told them, "Now, I really have to thank you guys. You guys have done me an absolute solid by coming here today. I know your schedules are busy, and you're well-paid musicians, and you don't need this bulls***. But you're here and I really appreciate it. And you have come up with all the musical compositions for each one of these potential theme songs."
Then, Burgundy and the band jumped into several options, each one completely different from the other. The first choice was a rock song with Ron singing, "Ron Burgundy, Ron Burgundy/ Talkin' and saying things/ Ron Burgundy, Ron Burgundy/ He's not playin' games/ Makin' sure you get the facts and listen to some guests/ He will fight to the end/ We know he's the best/ Take back the night, take back the night."
The second option was a slower, more jazzy choice. Burgundy sang, "Butterscotch and brandy/ No time like tonight/ We're gonna get down with it/ This impulse we can't fight/ Take my hand while I kiss your lips/ This ain't no mystery/ Who's that man, talkin' in my ear?/ He's Ron Burgundy/ Take back the night."
The third choice was, as Ron described, "a little more of a pop mix" and "something that the kids will really dig." Burgundy sings, "Waitin' by the phone on a Saturday night/ Move along, there's nothin' to see/ I thought by now I'd find true love/ But in life, let's face it, there's nothin' for free/ Who's gonna knock up on my door at night?/ I'm tellin' you my heart is pure/ Drivin' through the pourin' rain, I got a feelin'/ And this time I'm sure/ Ron Burgundy Podcast/ It's fun, but how?/ Ron Burgundy Podcast/ It's hip and now/ Ron Burgundy Podcast/ It's hot, oh yeah/ Oh by the way, one other thing/ Take back the night."
Seemingly not thrilled with the three options at that point, Ron told everyone that he had a song that he had been working on for a long time. He said, "Here's one I wrote. Original composition. I also wrote the music for it. This an original and I feel really good about what I wrote here. Some powerful lyrics that came from the heart. I've worked on this song for over a year. So it's good to finally record it, even if we don't use it for the podcast."
Then, Ron began to sing the lyrics to this year-long masterpiece. To a familiar tune, he sang, "You're on the phone with your girlfriend/ She's upset/ She's going off about something that you said/ 'Cause she doesn't get your humor like I do." And if those lyrics sound familiar too, that's because it's actually Taylor Swift's 2009 smash hit "You Belong With Me."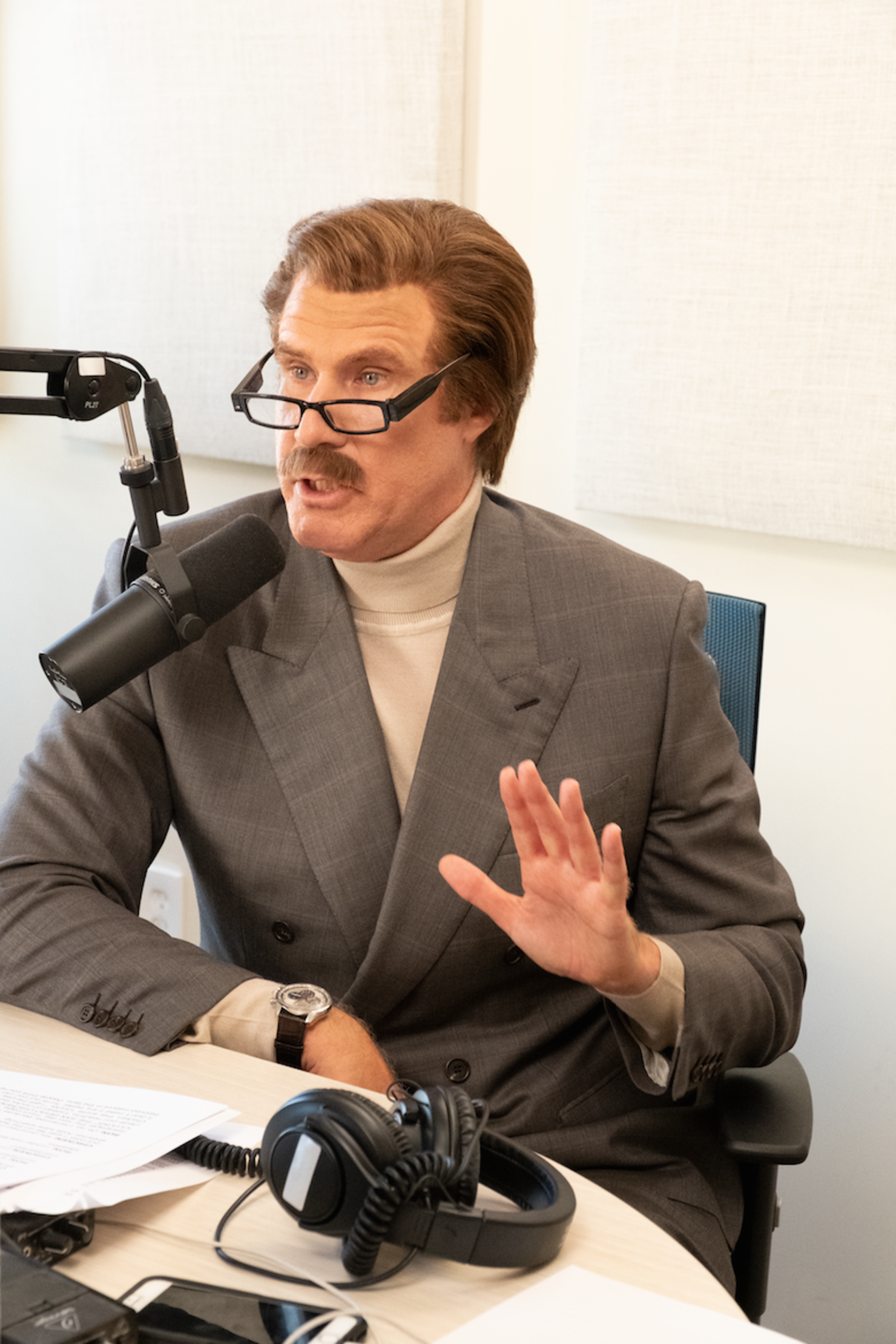 After everyone in the room informed Burgundy that the song is actually Taylor Swift's, he was certain that he actually wrote the song and replied, "Well, here's the thing, is it beyond the realm of possibility that two people on planet Earth could not literally write the same song, word for word, note for note?" And after more back and forth, he finally said, "Alright, so we don't do it. So it happened to be a Taylor Swift song. I had no idea."
Finally, Ron and the band came up with his perfect theme song, a tune that is dedicated to his favorite Aunt Louise who passed away after accidentally being locked in a gym sauna. Listen to Ron's new theme song (and hear his Taylor Swift cover) by listening to the latest episode of "The Ron Burgundy Podcast."