Death Metal Does Not Inspire Violence In Fans, Study Finds
By Andrew Magnotta @AndrewMagnotta
March 14, 2019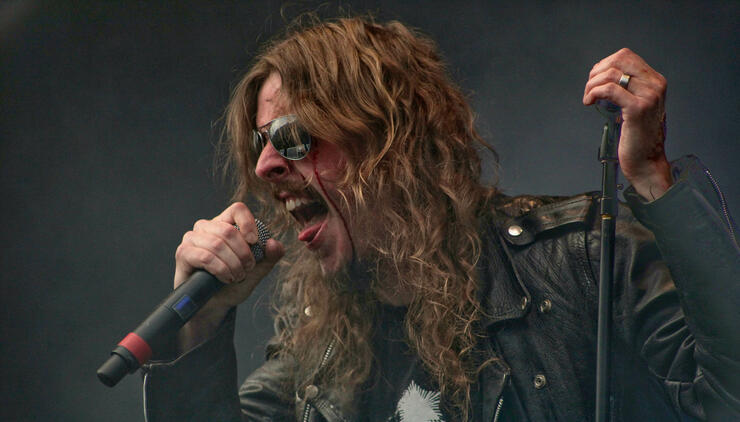 One of music's most sonically extreme genres is nothing to be scared of, according to the results of a psychological test by an Australian University's music lab.
Macquarie University researchers compared the psychological effects of the cannibalism-themed song "Eaten" by Swedish death metal band Bloodbath and the happiness-themed song "Happy" by Pharrell Williams on 80 participants. Forty percent of the participants identified themselves as heavy metal fans.
Participants were played either "Eaten" or "Happy" through headphones while being shown a pair of images. One of the images depicted a scene of violence. The other depicted something mundane.
Participants were likely to spend more time looking at the violent image than the innocuous one regardless of what song they were hearing or whether they were heavy metal or even death metal fans.
"It's called binocular rivalry," lead researcher Yanan Sun explained to the BBC. "The basis of this psychological test is that when most people are presented with a neutral image to one eye and a violent image to the other, they see the violent image more."
The phenomenon is attributed to the brain's evolutionary need to evaluate potential threats.
The findings suggest fans of music with violent themes are not at all "desensitized to violence," like many people think," said Macquarie University Professor Bill Thompson. Metal fans showed no more or less interest in violence than other participants in the study.
"Eaten" was selected by the researchers because its explicitly violent lyrics are delivered with guttural scream-style vocals set to an lumbering, bass-heavy groove revolving around minor key tonalities.
"Happy" is perhaps the total opposite of "Eaten." Lyrically the song conveys joy, and musically it suggests happiness with melodic, higher-pitched vocals, conventional structure, upbeat rhythm and major key signature.
Current Bloodbath front man Nick Holmes told BBC that he was happy the song (originally recorded in 2008 with Opeth vocalist Mikael Akerfeldt) was used in the study.
"The lyrics are harmless fun, as the study proved," he said, chalking up the gruesome imagery to that of "an '80s horror film."
"The majority of death metal fans are intelligent, thoughtful people who just have a passion for the music," he added. "It's the equivalent of people who are obsessed with horror movies or even battle re-enactments."
Professor Thompson said the findings should be "reassuring to parents or religious groups" concerned about violent music.
Photo: Getty Images
Chat About Death Metal Does Not Inspire Violence In Fans, Study Finds