Kacey Musgraves, Chris Martin Perform 'Rainbow' At iHeartRadio Music Awards
By James Dinh
March 14, 2019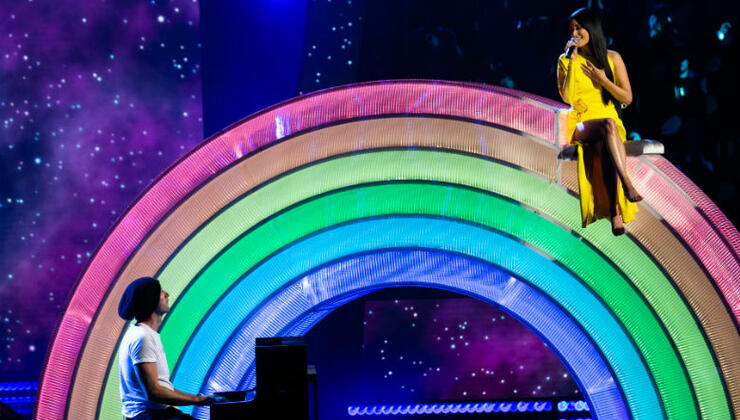 Kacey Musgraves continued her industry takeover when she took to the 2019 iHeartRadio Music Awards, which was hosted by T-Pain on Thursday (March 14), with special guest Coldplay's Chris Martin and "Rainbow," the latest single from her critically acclaimed LP, Golden Hour.
Introduced by Bebe Rexha, the 30-year-old songstress appeared on the Microsoft Theater stage in a yellow one-piece without shoes on top of an oversized rainbow. Unlike her performance at the 61st Grammy Awards, Musgraves sat atop the huge prop in front of a backdrop of stars as Martin played the piano to the ballad, which she co-wrote with Natalie Hemby and Shane McAnally. Back in December, the two previously performed the number at Global Citizen Festival's Mandela 100 in Johannesburg, South Africa.
"Well the sky has finally opened/ The rain and wind stopped blowin'/ But you're stuck out in the same ol' storm again/ You hold tight to your umbrella," she crooned during the hook. "Well, darlin', I'm just tryin' to tell ya/ That there's always been a rainbow hangin' over your head."
Beyond her performance, Musgraves also took home the award for Best Cover Song for her rendition of Shania Twain's "You're Still The One" with Harry Styles. It's the latest in a long string of accolades for the country titan. Not only did she conquer at the Grammys, but her "Oh, What A World: Tour" is sweeping the country with sold-out shows and she's set to hit both weekends of Coachella in April.
Check back for more coverage on the 2019 iHeartRadio Music Awards, including an up-to-date list of winners and some of the night's most show-stopping performances!
Chat About Kacey Musgraves, Chris Martin Perform 'Rainbow' At iHeartRadio Music Awards