T-Pain Hosts 2019 iHeartRadio Music Awards: Relive His Best Show Moments
By Hayden Brooks
March 15, 2019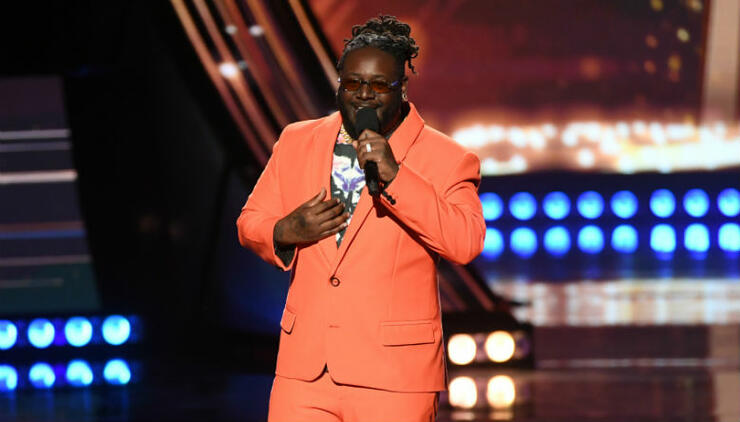 Plenty is happening in T-Pain's world right now. After winning FOX's recent singing competition, The Masked Singer, surprise releasing a new album called 1UP and revving up for a tour in support of the new LP, the R&B titan took to the 2019 iHeartRadio Music Awards on Thursday (March 14) to help lead the night as host of the ceremony and, boy, did he bring some of the most T-Pain moments to the affair. If you missed out on the action at the Microsoft Theater in Los Angeles, you can relive the some of the R&B titan's best moments below!
Auto-Tune Galore
T-Pain lived up to his legacy throughout the evening by incorporating bits of Auto-Tune into his hosting responsibilities, particularly right at the beginning of the show when he wrapped his opening monologue to introduce Katy Perry and Zedd's appearance.
They turned on that autotune for tpain real quick😂

— Bri (@bri_chops) March 15, 2019
The Masked Singer Monster Returns
It might not have been a pleasant outfit to wear, as per his interview with Ellen DeGeneres, but T-Pain decided to brave the heat once more and put on his monster outfit on during the night to perform his 2008 Jamie Foxx collab, "Blame It," before introducing the Hollywood actor himself. That's exactly what you call dedication.
Taylor Swift Storytime
T-Pain and Taylor Swift go way back (Google their 2009 CMT skit called "Thug Life"), so it only made sense that the host of the night would go on and recall an old story of the pair encountering a backstage fumble. As T-Pain told us on Tuesday, the story involved Swift's height.
"I remember I fell into her once," he admitted. "She was in her dressing room and I was going into her dressing room and I didn't know that she was as tall as she is and she had on heels, so I thought there was going to be a step up going into the room. I did the whole imaginary step thing and once I stepped down, I just fell right into her."