Lori Loughlin's Daughter Joked She "Literally Never" Went To School
By Emily Lee
March 17, 2019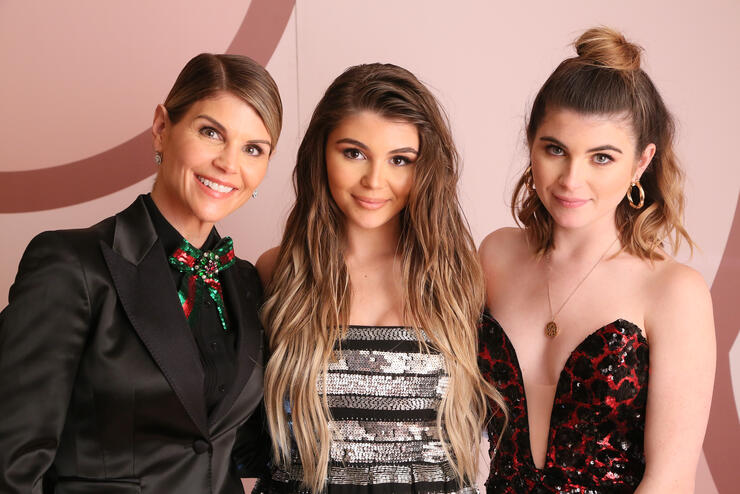 Fuller House actress Lori Loughlin and her husband, fashion designer Mossimo Giannulli, are at the center of a massive college admissions cheating and bribery scam. Both were charged for allegedly paying $500,000 in bribes to secure their daughters, YouTube influencer Olivia Jade Giannulli and Isabella Giannulli, spots at USC. In a recently recovered vlog from nearly a year ago, Olivia Jade joked that she was "literally never" at school. Yikes!
In a vlog from last May, titled "My Last Day of High School," Olivia talks about her high school experience as she gets ready for her final day as a high school student. "I'm literally never at school," Olivia revealed, following her statement up with a joke. "I think my class doesn't even—maybe they forget I go there...just kidding!"
This isn't the only Olivia Jade's vlog that has come under fire since the bribery scandal came to light. While answering fan questions in another vlog from 2018, Olivia Jade said didn't know how she planned to balance her successful career as a YouTuber and influencer while simultaneously taking classes at USC.
"I don't know how much of school I'm gonna attend but I'm gonna go in and talk to my deans and everyone, and hope that I can try and balance it all," she told her fans in the video. "But I do want the experience of like game days, partying…I don't really care about school, as you guys all know."
Olivia Jade and her sister have reportedly dropped out of USC following their parents' arrest. Neither Olivia Jade or Loughlin have released a statement about the scandal.
Photo: Getty
Chat About Lori Loughlin's Daughter Joked She "Literally Never" Went To School