YUNGBLUD Brought The Xmas Gift Halsey Gave Him To iHeartRadio Music Awards
By Peyton Blakemore
March 18, 2019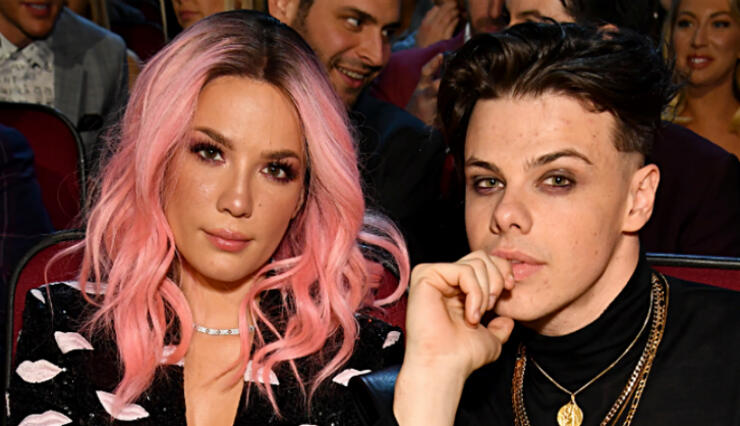 Halsey is a great gift giver!
Days after she took the iHeartRadio Music Awards stage with her boyfriend YUNGBLUD, the "Without Me" singer revealed a special detail about their performance, and it had everything to do with the thoughtful Christmas gift she got for her man.
"fun fact: the sg [guitar] @yungblud played on the @iheartradio music awards was a xmas gift from meeeeeee 🧚🏼‍♂️," she captioned a video of YUNGBLUD opening his gift on Twitter Sunday (March 17).
In the 17-second clip, the 20-year-old singer is shown freaking out as he opens up a guitar box to find a cream-colored guitar.
Halsey and YUNGBLUD first sparked relationship rumors back in November, when they were spotted leaving Milk Studios in Hollywood together. Since then the couple has shared numerous coupled-up photos on social media. They've even taken a trip to Disneyland together.
Most recently, the duo appeared to confirm their relationship at the 2019 iHeartRadio Music Awards on Thursday (March 14), when they shared a little PDA before Halsey was honored with the 2019 L'Oréal Paris Fangirls Award.
After performing their hit "11 Minutes" alongside Travis Barker, Elle Fanning presented the prestigious award, which is all about women bettering the world, to the 24-year-old singer. However, before Halsey hit the stage to receive her award, she kissed YUNGBLUD, who was all smiles as his lady was being honored.
Photo: Getty Images
Chat About YUNGBLUD Brought The Xmas Gift Halsey Gave Him To iHeartRadio Music Awards