Jameela Jamil Puts Khloe Kardashian On Blast For Promoting Weight Loss Tea
By Emily Lee
March 21, 2019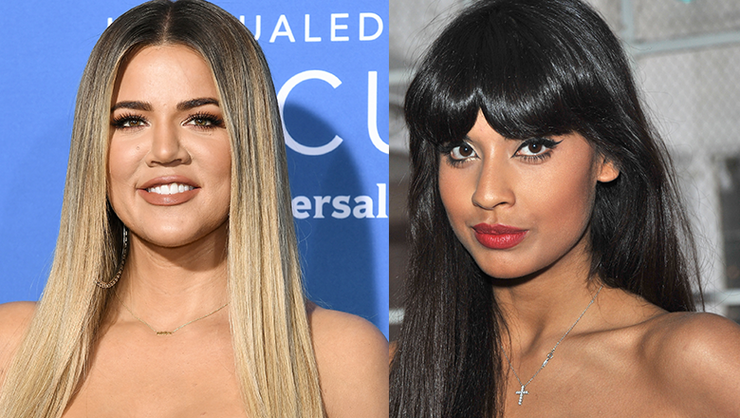 Jameela Jamil is over her fellow celebs promoting weight loss products on social media. The Good Place actress recently made headlines for putting Cardi B on blast for her partnership with a detox tea company and now she's taken Khloe Kardashian to task, as well.
Khloe took to Instagram on Wednesday (March 20) to share a mirror selfie showing off her abs. The post was a paid ad for a meal replacement shake, which Khloe credited for her appearance. "Loving how my tummy looks right now you guys!" she wrote. "The progress is undeniable."
It wasn't long before Khloe's followers, as well as Comments by Celebs, noticed a comment from Jameela that called the reality star out for the post. "If you're too irresponsible to: a) own up to the fact that you have a personal trainer, nutritionist, probable chef, and a surgeon to achieve your aesthetic, rather than this laxative product...And b) tell them the side effects of this NON-FDA approved product, that most doctors are saying aren't healthy [...] then I guess I have to," she wrote.
"It's incredibly awful that this industry bullied you until you became this fixated on your appearance," Jameela continued. "That's the media's fault. But now please don't put that back into the world, and hurt other girls, the way you have been hurt. You're a smart woman. Be smarter than this."
After her comment picked up a lot of buzz online, Jameela appeared to address the situation on Twitter. "I will continue to embarrass you all until you all discontinue your promotion of dud 'diet/detox' products, that aren't FDA approved, and you don't even put the f***ing side effects on the damn post. There are very young people you are hurting here, and I'm doing this for them," she wrote.
Khloe has not responded to Jameela's comment.
Photo: Getty
Chat About Jameela Jamil Puts Khloe Kardashian On Blast For Promoting Weight Loss Tea