Ron Burgundy Discusses Bullying with a 10-Year-Old on His Podcast
By Nicole Mastrogiannis
March 21, 2019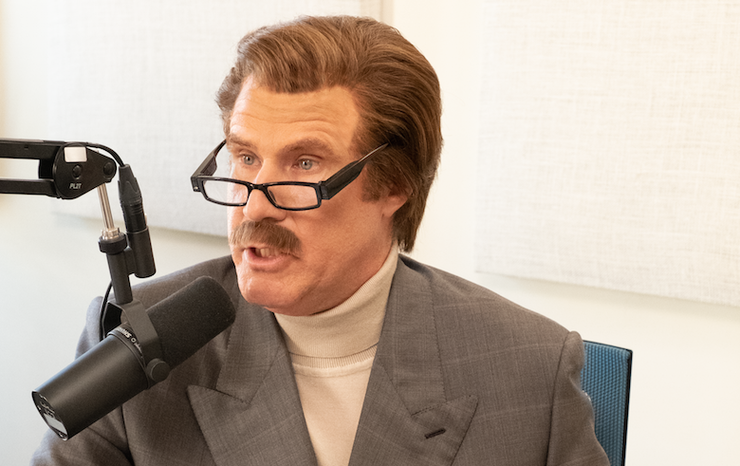 On the latest episode of "The Ron Burgundy Podcast," your favorite host an anchorman talked about a very important topic: bullying.
After revealing that he was attacked by a pack of wild dogs and that bullying was "the only thing that got them off" of him, Burgundy revealed his stance on the issue: "My point is, bullying is not cool." Because, as he stated, "I realized I don't bully often, but when I do, I can be rough."
Then, he learned what a swirly was after Carolina told him about a bully who used to give them to her in college. She explained, "I got a swirly once from some girls that went to a sorority, and it was really painful. It was really humiliating."
Since a lot of bullying happens in school, Burgundy's special guest was 10-year-old Gwendolyn Daisy Carrabba — Gwen for short. Gwen is in fifth grade and told Ron about a bully — "Jane Doe" for privacy purposes — who disses her dance competitions.
Then, Burgundy brought up First Lady Melania Trump, who has made anti-bullying her platform, and asked Gwen if she thinks her campaign is helpful. Gwen replied, "I don't like her" and she believes that President Trump himself is a bit of a bully sometimes. She also doesn't think that Melania's anti-bulling efforts are working.
Afterwards, Burgundy played Gwen an anti-bullying PSA he put together in the '70s and asked for her opinion. The PSA said, "Dummy. Four eyes. Jolly Green Giant, how's the air up there? Liar. Swamp boy. Trailer trash. Humpback of your Notre mom. Geek. Jack wagon. Poor kid. Hey, when you put on a red shirt and lean out a window, people think you're the Kool-Aid Man. S*** face. Metal mouth. Cupcake face. Loser. This is Ron Burgundy. Those were some tough words. These words don't feel so good, do they? Remember, what you say matters."
Gwen said she actually liked the name "cupcake face."
Find out what else Ron Burgundy, Carolina and little Gwen had to say about bullying in the latest episode of "The Ron Burgundy Podcast" above.
Chat About Ron Burgundy Discusses Bullying with a 10-Year-Old on His Podcast