Maren Morris Pens Romantic Note to Husband on First Wedding Anniversary
By Taylor Fields
March 25, 2019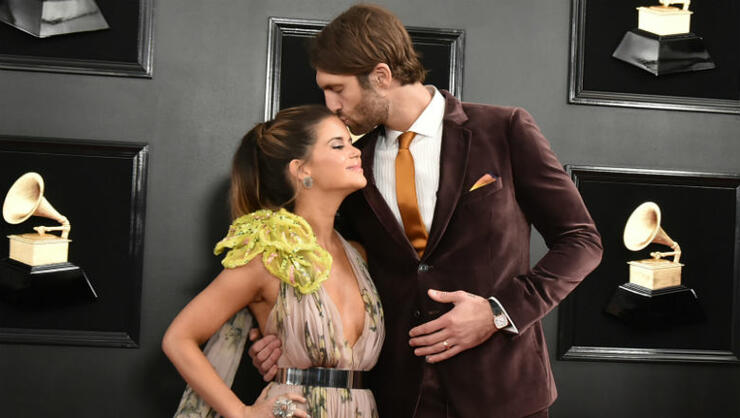 That went fast! It's been a whole year since Maren Morris and Ryan Hurd tied the knot and to celebrate their first wedding anniversary, Morris shared some sweet words for her husband to remember their special day.
On Instagram, Maren posted a black and white photo from their wedding day as Ryan's arm is around her while they both are looking into each other's eyes. Then, in the caption she wrote, "I wouldn't mind doing this, say, 60 more times around the sun with you. happy 1 year, my love."
Meanwhile, Hurd wrote his own little note to his wife as well. On his Instagram, he also posted a romantic photo of them from their wedding day, while they share a kiss. He wrote, "Best thing that's ever happened to me. Best year of my life. I love you, MM. I tell you over and over, but you'll still never know how much. Happy 1 year!"
I'm not crying, you are.
Maren and Ryan got married on March 24th, 2018 in Nashville — the city where they met while writing a song for Tim McGraw. During an interview with Bobby Bones last year, Hurd explained of their wedding vows, "They were fun. I mean, we kinda had a lot of fun with it. I remember she got The Predators, the hockey team, in her vows to me, and I put in, like, 'I'll promise to ride in a single bunk with you as long as we have one,' and also 'I'll put up with The Real Housewives of Beverly Hills.' And so, we just kinda made it, you know, there were heavy moments, but we put a lot of lightness into it to because it was fun to get married. And we have a lot of fun doing all this stuff and riding all over the country playing music with each other. So, it was an awesome day and ['Diamonds or Twine'] was a part of that."
And speaking to Esquire during a recent interview, Morris shared of her marriage, "Getting married made me want to better myself and figure out why I do the things I do. And, for my own mental health, as I go deeper and deeper into this world of music, I need another outlet besides writing songs to get out what I'm feeling."