Passengers Recount Terrifying Stories Of Being Airlifted Off Cruise Ship
By Bill Galluccio
March 25, 2019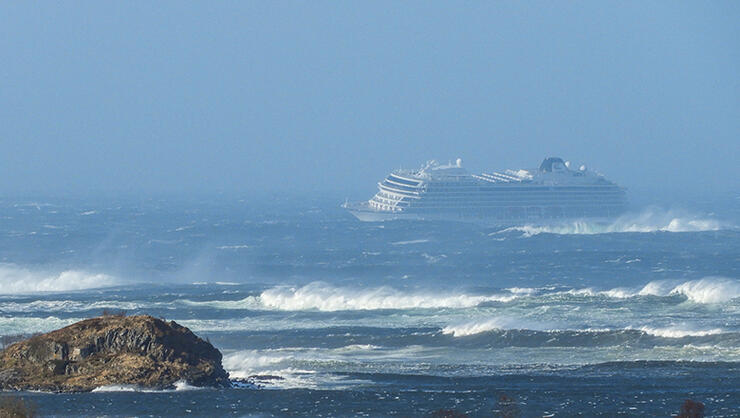 Passengers aboard the Viking Sky cruise ship were relieved to make it to shore after a terrifying day at sea in which the boat's engines failed off the western shore of Norway. The Viking Sky sent out a mayday call on Saturday (March 23) after it lost power to its engines in the middle of an intense storm.
Without engine power, the ship was at the mercy of massive waves, which tipped the boat at a 45-degree angle, sending passengers and furniture sliding across the floor.
"We were trying to stay lower in the ship towards the center just because it was a recipe for seasickness. And then they called muster stations, and within half an hour we figured out that we're getting off here," one of the passengers, Jan Terbruegen, told CNN. "We could see that we were getting blown in towards some rocks. That was the most frightening thing I think. But luckily that wasn't our destiny."
One of the waves crashed onto the deck, flooding parts of the ship as the water rushed inside.
"When the windows and door flew open, and the 2 meters (6 feet) of water swept people and tables 20 to 30 feet, that was the breaker. I said to myself, 'This is it,'" Rodney Horgen told The Associated Press. "I grabbed my wife, but I couldn't hold on. And she was thrown across the room. And then she got thrown back again by the wave coming back."
Rescuers were called and airlifted 479 passengers off the ship. Passengers were taken off the boat one at a time in the middle of the night as the ship continued to get battered by large waves.
"The guy came down from the helicopter -- one of the Coast Guards -- snapped my belt and said 'hold it' and shot me up about 100 feet in the air and onto the helicopter," Beth Clark said. "I was more terrified of hitting the blades. I didn't look down, so that was my big fear. Everyone had their different fears, that was mine. But they were awesome, I mean as soon as they hoisted you up, he grabbed me and pulled me in like a sack of potatoes."
As the rescue attempts continued, technicians managed to restart the engines and the captain decided to bring the ship to a nearby port.
On Sunday, a tug boat and two other vessels were able to pull the cruise ship to the port on Molde, where the remaining 436 passengers and 458 crew members were able to disembark, putting an end to their harrowing day at sea.
Authorities say that 20 people were injured and taken to local hospitals for treatment. One person is listed in critical but stable condition, and eight others remain hospitalized.
Officials in Norway have launched an investigation into why the Viking Sky set sail along the country's coast amid storm warnings.
Photo: Getty Images
Chat About Passengers Recount Terrifying Stories Of Being Airlifted Off Cruise Ship