Tony Iommi Wishes He Wrote Led Zeppelin's "Kashmir"
By Andrew Magnotta @AndrewMagnotta
March 25, 2019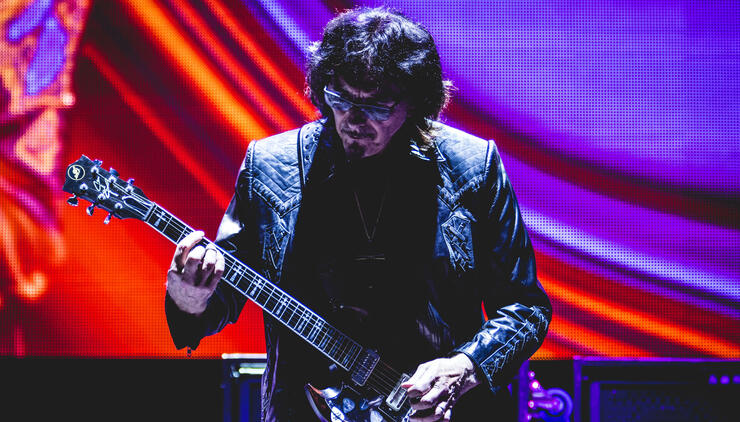 It's been said that every hard rock or metal riff is essentially a rip-off of something Black Sabbath already did.
While guitarist Tony Iommi and his iconic heavy metal band have most of the world's greatest riffs locked down, there are a few exceptions. Iommi was recently asked via social media what's the one song he would add to his own catalog if he could.
He replied, simply: "Kashmir."
The song from Led Zeppelin's sixth studio album, 1975's Physical Graffiti, contains one of Jimmy Page's signature odd-time, alternate-tuned guitar riffs.
Sabbath and Zeppelin are often cited as the two main progenitors of heavy rock music. Iommi himself spoken fondly in recent years about the two bands' mutual appreciation.
"We were really good mates with Led Zeppelin, especially Robert Plant and John Bonham who came from the Midlands [where Black Sabbath is from]," Iommi told Classic Rock Magazine recently. "Zeppelin had wanted us to be on their label, Swan Song, but we couldn't make it work out."
Iommi said Zeppelin and Sabbath even jammed together while Sabbath was recording its fifth studio album, Sabbath Blood Sabbath.
John Paul Jones reportedly wanted to play "Supernaut" (from Sabbath's previous album), but the collective ended up making up something new on the spot.
"I know that it was recorded, and I'd love to hear it. The tape must be around somewhere," Iommi added.
Photo: Getty Images
Chat About Tony Iommi Wishes He Wrote Led Zeppelin's "Kashmir"