iHeartRadio's Totally '80s Week Podcast: Journey, MTV & More
By Hayden Brooks
March 27, 2019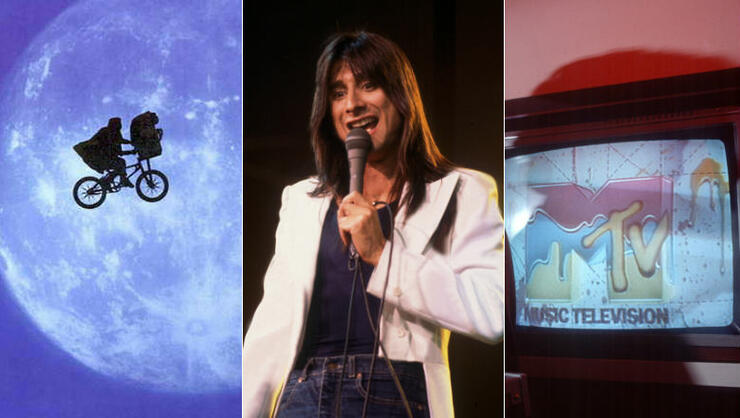 iHeartRadio's Totally '80s Week is continuing strong and San Francisco Bay Area 103.7's Martha Quinn's has honed in on several crucial pop culture moments behind the decade that once revolved around big hair, bold fashion, and, of course, the rise of MTV. In honor of our throwback week, the radio personality took a trip down memory lane to revisit the era with a number of special installments of her podcast. Whether she was celebrating famed females like Madonna and Janet Jackson or recalling the early idea of a VJ with Bob Pittman, CEO of iHeartMedia and founder of MTV Networks, Quinn covers all the great phenomenons. Scroll on below to read through some highlights from the episodes and then take a listen to the installments of iHeartRadio's Totally 80s Week Podcast with Martha Quinn for yourself!
Episode: The Original VJ
In this episode, Quinn recalled a memory of when her former assistant program director, Buzz Brindle, suggested that she be a VJ for the then-budding MTV platform. "I also worked on my college radio station, so in a crazy twist of fate, I was accumulating the two skills that would be perfect for MTV, which was being invented elsewhere in New York City," she said. In the broadcast, Bob Pittman, CEO of iHeartMedia and founder of MTV Networks, spoke about the channel's popularity within youth culture and how it bridged the gap between artists and their fanbases.
"MTV did originally sort of opened up the country to new ideas and what was going on. Before MTV came along, if you were a TV Programmer, you tried to make everything look like the average American family," he explained. "When MTV came along, we showed people what everyone was wearing in New York or L.A. and the punk scene, and the London scene, and suddenly people got this glimpse of the world that was not what they had been seeing. And for artists, remember before MTV, this is way, pre-internet, no one really knew what the artists looked like. It was hard to get pictures of them. There was no jumbo screen at a concert, so unless you had great seats, it was some little ant down there on the stage. If you remember, one of the first things that happened on MTV is the artists are saying, 'Wow, somebody stopped me on the street and said I saw you on MTV!'"
Episode: The Voice Returns
Journey is the main focus of this episode, which is deemed "The Voice Returns" in reference to Jon Bon Jovi dubbing frontman Steve Perry "the voice." Take a trip down memory lane to hear the trio discuss Perry's decision to leave music at the top of the group's fame. "In 1987, really at the top of Journey's game, he felt that there was only one thing he could do because he was going kind of down a bad path," Martha prefaced, before soundbites from Perry's interview with iHeartRadio DJ, Jim Kerr, filled the podcast. "The only thing that made sense to me was going to be a very unpopular decision. I know the band was not gonna like it, and I certainly know it's gonna be not nice to the fans; but at some point I had to take care of myself, and I had to just stop," he explained.
Episode: Rad '80s Ladies
Madonna, Janet Jackson and Tina Turner are just some of the dominating female titans of the '80s and Quinn celebrated the names alongside her radio crew. With show producer Carina and executive producer Christie by her side, the three reminisced about the influence and impact of the pop superstars, particularly the Queen of Pop. "Madonna, also not only just for her singing, but her fashion, her ability to just say, 'You know what? I don't care what you think, I don't care what you say. I'm not gonna fit into this box of what you think a woman should fit into. I'm gonna do my own thing,'" Christie gushed. "She has been dancing to the beat of her own drum since the early '80s."
Episode: Martha Quinn's '80s Mount Radmor
Over in this episode, the trio debate and discuss the four architect anthems of the '80s that would appear on the Mount Rushmore of the decade, or "Mount Radmor" as the personalities dubbed it. While Martha selected classics like Gary Numan's "Cars" and The Sugar Hill Gang's "Rapper's Delight," she also went head-to-head with her show counterparts in deciding the cuts that best represent the era as a whole. "You're picking big artists of the '80s, who made their mark in the '80s, as opposed to songs that were the forerunners of the '80s sound," Martha argued about the concept of the debate. Find out who show producer Carina and executive producer Christie selected in their musical showdown!
Episode: '80s Movies
'80s films have also survived the test of time and their impact is undeniable. In another episode of the podcast, the trio talk about their very favorite movies from the era. Martha, Carina and Christie list off the notable titles like E.T., Who Framed Roger Rabbit, One Crazy Summer and The Neverending Story. Unsurprisingly, Martha is able to bring the conversation full circle with some important musical-charged films like Purple Rain, This Is Spinal Tap and Sid and Nancy, too.
Chat About iHeartRadio's Totally '80s Week Podcast: Journey, MTV & More