The Offspring Reflect On 'Smash' 25 Years Later
By Katrina Nattress
March 27, 2019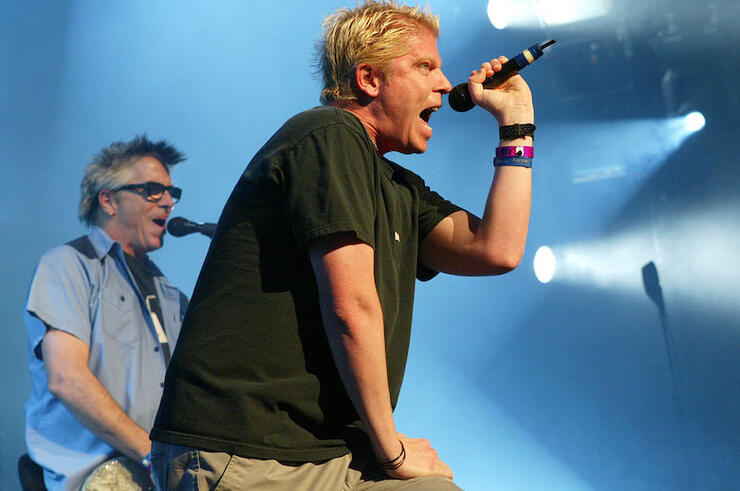 On April 3, 1994, The Offspring released Smash. Though it was their third album, the band hadn't quite "made it" yet. They considered themselves a part-time band, and the guitarist, Noodles, still had his job as a janitor. Little did they know that collection of songs would catapult them into rockstardom. Now, 25 years later, Noodles and frontman Dexter Holland reflect on that crazy time in a special interview with Kerrang!.
"Prior to Smash, we were pretty much a part-time band. Even when we blew up, I didn't even quit my job [as a janitor at the Earl Warren School in Anaheim] outright – I took a three-year leave of absence," Noodles explained. "I was still working there when we were blowing up 'cause I'd promised my boss I wouldn't quit until the end of the school year. There was this one high school girl that I knew [there] and she used to see me in the morning and say to me, 'Man, what are you doing? I just saw you on MTV!'"
"There were a lot of things at that time that we didn't do. We didn't do any late-night TV shows until Days Go By [in 2012]! On Smash, we turned down Saturday Night Live, simply because we didn't think we were good enough. Again, I think that has something to do with the fact that we were a part-time band," he continued. "We did do the Billboard Awards, which was on TV, but it wasn't widely viewed. The organisers were pissed off that we played 'Bad Habit' rather than one of the hits, but we thought, 'We're punks. We're not a pop band. Let's go out and f*** things up a little bit.'"
"We actually considered playing 'Too Drunk To F***' [by Dead Kennedys] at the Billboard show," Holland added. "In the end we played 'Bad Habit.' But we played raw, and at the end I dived into the crowd. I remember the looks on the faces of the people at the front as I did this, and thinking, 'Wow, these aren't the same people that come to see us when we play [punk venue] Gilman Street!'"
As they celebrate the 25th anniversary of their seminal album, The Offspring are also gearing up to release new music. According to Holland, their 10th album should be out by this Fall.
Photo: Getty Images
Chat About The Offspring Reflect On 'Smash' 25 Years Later