Tim McGraw Talks Diabetes Awareness In 'Spit' Season 2 Kickoff Episode
By Hayden Brooks
March 27, 2019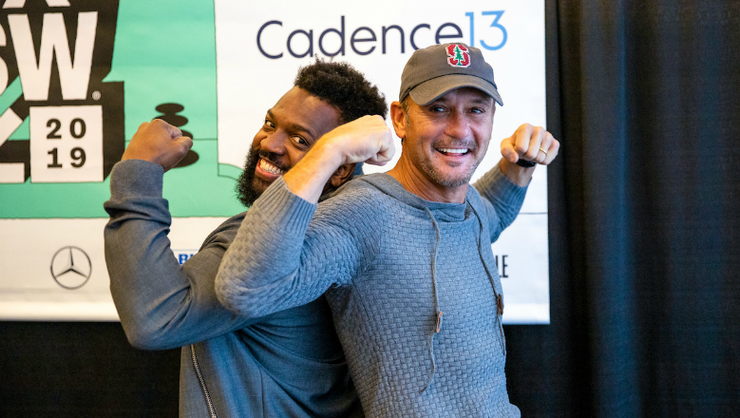 "Spit," the collaborative podcast between iHeartMedia and 23andMe, has returned and we're kicking season 2 off with none other than Tim McGraw. Recorded live in front of a SXSW crowd, the episode heard host Baratunde Thurston continue his journey to explore the ever-changing ways that DNA is impacting our lives and the world around us. More specifically, this episode centered around Type 2 diabetes, making the country icon's guest appearance all the more suitable, considering he's been the face of America's Diabetes Challenge.
Kicking off the episode, McGraw recalled a moment when he was at the movie theaters with his daughters and his appearance flashed in front of the family outing. "We were in the movie theater, and my girls were with me, and my wife. And sure enough, two trailers into the program, my face pops up on the screen for this movie. My daughter looked at me and says, 'Jeez, dad.' Because I was about 45 pounds heavier," the singer recalled, before admitting that it was a bit of a wake-up call for him. As the face of America's Diabetes Challenge, the superstar revealed that he's been able to prioritize his fitness, courtesy with an on-the-road gym, that compliments his nonstop lifestyle as a performer.
"When I was asked to be a part of the American Diabetes Challenge, the first thing I thought of, 'This is a great way to motivate people and inform people,'" he said. "If I can use my celebrity cash to bring awareness to something, that's what you're supposed to use it for, right? If you're gonna put your face and step out and do something, you're supposed to do something that's for the good of the community. For me, it was about health and lifestyle and fitness, and things that you can physically put your hand on to make your life better. That's getting information and moving."
Part of that motivation arrived from of his late aunt, who battled type 2 diabetes and eventually died way too young from complications, and McGraw wanted to set an example. "You never know who's watching you, and if you do something positive, I guarantee you somebody else is following along doing something positive as well," he added.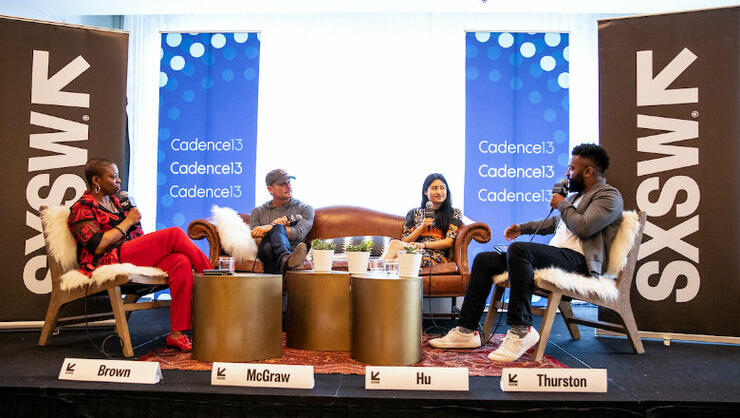 In addition to McGraw's appearance, the 45-minute episode also featured commentary from Tracey Brow, American Diabetes Association CEO, and Julia Hu, Lark Health CEO/Co-Founder, whom both decided to shed light on their own personal relations to struggling health. "I was diagnosed with gestational diabetes when I was pregnant with my daughter," Brow revealed. "For 80 percent of the women, it goes away after you have your child. For 20 percent, it remains, and so I was in that 20 percent that it moved from gestational to type 2. I probably should've taken the diagnosis seriously then, and I didn't. I'm pretty type A. I'm pretty competitive. I figured, 'I got this, I can figure this out.'" It wasn't until Brow's five-year-old daughter saw her taking insulin shots and pricking her finger to ask if she was going to die. "That was the turning moment for me," she said.
Hu, who built the Lark as a company that essentially uses artificial intelligence to provide a virtual nurse through text messages, went on to explain that she grew up with a chronic disease and went undiagnosed for the first 25 years of her life. "It was just so painful, and ever since I was a little kid my dad took me to 30 specialists. No one could figure out what I had. They gave up on me. He kept on searching, he quit his day job, kept on searching. Finally found this doctor, this pediatrician," she said, adding that the doctor became her full support system through her struggles.
"Billions of people have chronic conditions and there there are not enough nurses. There are not enough doctors in the world. What if you could have a 24/7 personal care team that understood your numbers, understood your genetics, and could chat with you like a friend at any point and time when you needed help?," she said of conceptualizing the project. "Lark is trying to help anyone with chronic disease have compassionate, but also medically informed personalized healthcare whenever they need it."
"Spit" is an iHeartRadio podcast with 23andMe, where we sit down with the most interesting cultural influencers of our time to explore how DNA testing gives us a new perspective on who we are and how we are all connected. Enjoy this episode? Subscribe, rate and review "Spit" on iTunes. "Spit" is brought to you 23 and Me. Find out more about our host Baratunde Thurston at Baratunde.com or sign up for his text messages at 202-902-7949.
Photo: The Antman for iHeartRadio
Chat About Tim McGraw Talks Diabetes Awareness In 'Spit' Season 2 Kickoff Episode