Chris Stapleton & Pink Collaborate On New Track, 'Love Me Anyway'
By Lauryn Snapp
March 28, 2019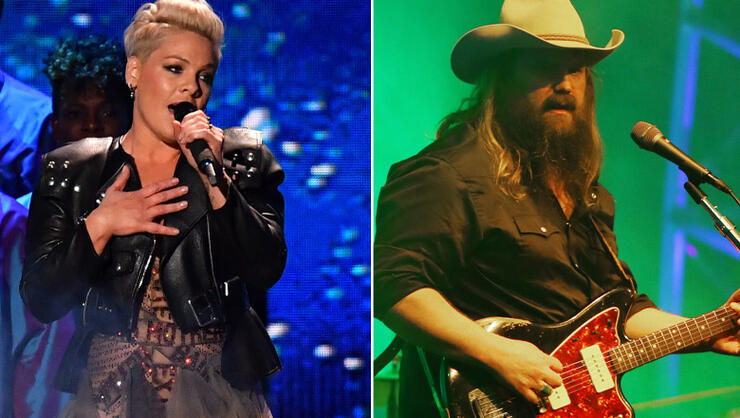 P!nk has revealed details surrounding her new album, 'Hurts 2B Human' and one collaboration that the global superstar notes have country fans buzzing with excitement!
Country superstar, Chris Stapleton will be joining the "Raise Your Glass" singer for a special duet. The track called, "Love Me Anyway" will be featured on the new album coming April 26th.
The last time that P!nk crossed over into the country scene was alongside Kenny Chesney. Their 2016 collab entitled, "Setting The World On Fire" was nominated for the Best Country / Group Performance at the 2017 Grammy Awards.
Pink is currently on her 'Beautiful Trauma' tour, named after her 2017 album. CMT's Cody Alan was front row at her Nashville tour stop and is eager to hear P!nk and Chris come together on this track. Talk about dynamo vocal blends!
'Hurts 2B Human' Tracklist:
"Hustle"
"(Hey Why) Miss You Sometime"
"Walk Me Home"
"My Attic"
"90 Days" featuring Wrabel
"Hurts 2B Human" featuring Khalid
"Can We Pretend" featuring Cash Cash
"Courage"
"Happy"
"We Could Have It All"
"Love Me Anyway" featuring Chris Stapleton
"Circle Game"
"The Last Song of Your Life"
Photo Credit: Getty Images.
Chat About Chris Stapleton & Pink Collaborate On New Track, 'Love Me Anyway'