Keith Richards Looks Back 30 Years After 'Talk Is Cheap' Solo Debut
By Andrew Magnotta @AndrewMagnotta
March 28, 2019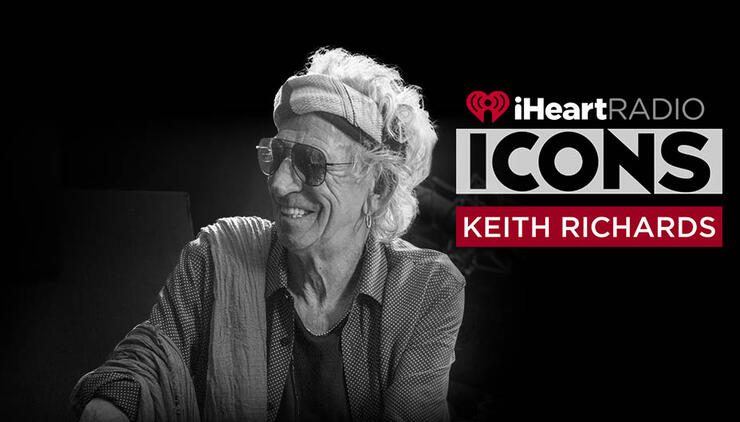 A day before the release of the 30th anniversary reissue of his acclaimed solo debut, Talk Is Cheap (available March 29), Rock and Roll Hall of Famer and iHeartRadio ICON Keith Richards sat down with Q104.3 New York's Jim Kerr for a retrospective interview.
While some say Talk Is Cheap is the result of ole Keef's restlessness, he downplays the idea, suggesting there's simply no better way to spend downtime than by making music. And with The Rolling Stones on a break, he needed an outlet.
"The other way of looking at it is I just had time on my hands," Richards tells Kerr. "And I really, personally, had no idea what to do with it. [Rolling Stones drummer] Charlie Watts had said to me, 'It looks like we're going to have some time off, and if you're going to do anything with anybody else, Steve Jordan's your man.' And this is one top drummer about another."
Of course, Richards hasn't had a lot of downtime at all in his career. Historically, The Rolling Stones are one of the hardest working bands in the world. It's no secret that Talk Is Cheap came about after a rare prolonged falling out between Richards and Mick Jagger in the late-'80s.
As the album was warmly received by fans and critics, it's understandable that people listened closely for references to Richards' longtime partner. The song "You Don't Move Me" drew scrutiny for its perceived references to Jagger.
For Richards, the song came from such a deep place in his subconscious, he now admits the world knew what the song was about years before he did.
"I figured you'd get around to that," Richards cackles at the mention of "You Don't Move Me." "...I really was not thinking of a specific target.
"I realized a few years later that I was," he admits. "Hey, Mick knows it. 'You just don't move me anymore.'"
Richards agrees that he and Jagger are better together, and goes a step further, ribbing Jagger for his own 1985 solo debut.
"It's better than She's The Boss!" he laughs.
Richards prefers the coziness of a band to being on his own. He says one of the triumphs of Talk Is Cheap is that he developed a genuine personal and musical kinship with the other musicians involved with the record.
While we don't know if going solo helped encourage his eventual reconnection with Jagger, Richards explains that it did give him some insight into Jagger's mindset.
"I'm on a learning curve with lead singing all the time. I did appreciate Mick Jagger — a lot more appreciation of what it takes to be out there. You don't have a moment off. With the Stones, you see, I can put myself out in front or I can retire back to the rhythm section. You have options."
Order the Talk Is Cheap Deluxe Box Set here.
The Rolling Stones are getting back on the road in April. Get all the tour dates here.
Chat About Keith Richards Looks Back 30 Years After 'Talk Is Cheap' Solo Debut