Twenty One Pilots Just Made YouTube History
By Katrina Nattress
March 28, 2019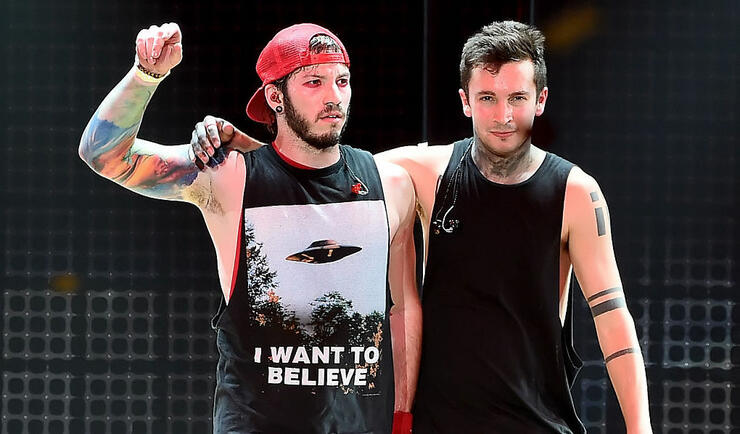 Twenty One Pilots just made YouTube history.
According to Altpress, the duo is the first to hold two slots in the video streaming service's Top 40 most-liked music videos of all time. Their video "Stressed Out" holds the number 15 slot with 10.16 million likes, and "Heathens" is at number 40 with 8.24 million. Additionally, their like to dislike ratio is quite impressive, with "Stressed Out" at a 96% approval rating and "Heathens" at 97%.
Watch both videos below, and give them a thumbs up if you haven't already. While you're down there, check out the Top 40 most-liked YouTube music videos of all time.
01. 'Despacito' -Luis Fonsi featuring Daddy Yankee(32.56 million likes)
02. 'See You Again' -Wiz Khalifa featuring Charlie Puth(23.46 million likes)
03. 'Shape of You' -Ed Sheeran(19.37million likes)
04. 'Gangnam Style' -Psy (15.58 million likes)
05. 'Faded' -Alan Walker (15.31 million likes)
06. 'Hello' -Adele(14.23 million likes)
07. 'Girls Like You' -Maroon 5 featuring Cardi B(13.00 million likes) 
08. 'Uptown Funk' -Mark Ronson featuring Bruno Mars(12.46 million likes)
09. 'Mi Gente' -J Balvin and Willy William(11.84 million likes)
10. 'Sorry' -Justin Bieber (11.43 million likes)
11. 'Alone' -Marshmello(11.39 million likes)
12. 'Baby' -Justin Bieber featuring Ludacris(11.17 million likes))
13. 'Lean On' -Major Lazer and DJ Snake featuring MØ(10.40 million likes)
14. 'Taki Taki' -DJ Snake featuring Selena Gomez, Ozuna & Cardi B(10.39 million likes)
15. 'Stressed Out' -Twenty One Pilots(10.16 million likes)
16. 'Perfect' -Ed Sheeran(10.08 million likes)
17. 'Sugar' -Maroon 5(9.95 million likes)
18. 'Thinking Out Loud' -Ed Sheeran(9.93 million likes)
19. 'God's Plan' -Drake(9.61 million likes)
20. 'New Rules' -Dua Lipa (9.60 million likes)
21. 'Counting Stars' -OneRepublic (9.52 million likes)
22. 'Rap God' -Eminem (9.33 million likes)
23. 'Roar' -Katy Perry (9.31 million likes)
24. 'Closer' (Lyric video) -The Chainsmokers featuring Halsey(9.14 million likes)
25. 'Thank U, Next' -Ariana Grande (9.04 million likes)
26. 'Fake Love' -BTS (9.03 million likes)
27. 'Let Her Go' -Passenger (8.88 million likes)
28. 'Blank Space' -Taylor Swift (8.86 million likes)
29. 'Idol' -BTS (8.75 million likes)
30. 'DNA' -BTS(8.69 million likes)
31. 'Bum Bum Tam Tam' -MC Fioti (8.59 million likes)
32. 'Gucci Gang' -Lil Pump (8.52 million likes)
33. 'Ddu-Du Ddu-Du' -Blackpink (8.48 million likes) 
34. 'Dark Horse' -Katy Perry featuring Juicy J (8.46 million likes)
35. 'Believer' -Imagine Dragons (8.41 million likes)
36. 'Look What You Made Me Do' -Taylor Swift(8.37 million likes)
37. 'Love Me Like You Do' -Ellie Goulding (8.30 million likes)
38. 'Waka Waka (This Time for Africa)' -Shakira featuring Freshlyground (8.29 million likes)
39. 'Shake It Off' -Taylor Swift (8.29 million likes)
40. 'Heathens' -Twenty One Pilots (8.24 million likes)
Photo: Getty Images
Chat About Twenty One Pilots Just Made YouTube History