Meghan Markle & Kate Middleton Made "An Agreement" To Get Along
By Emily Lee
March 29, 2019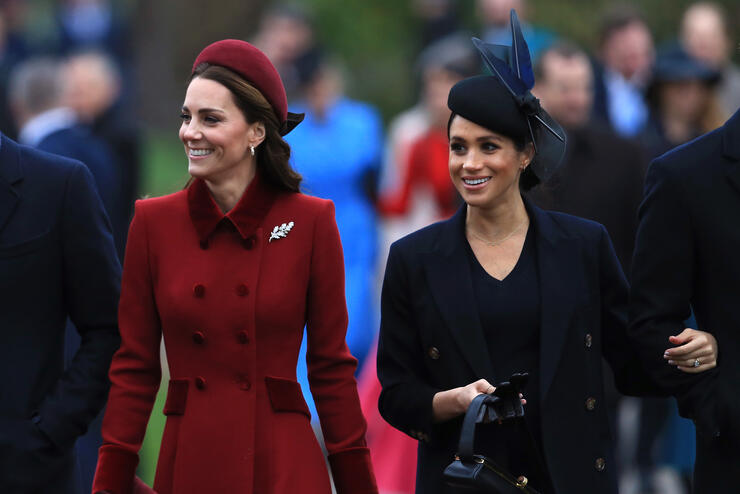 Meghan Markle and Kate Middleton are so over all the feud rumors swirling around them. The royal sisters-in-law are reportedly working together to quash any speculation about bad blood between them. They made an agreement to put up a united front in public.
Royal reporter Katie Nicholl spoke with Glamour about Kate and Meghan's relationship. She explains that while feud rumors were totally overblown, there was some tension between the two women behind the scenes. For example, they had an argument over Princess Charlotte's bridesmaid dress that left Kate in tears in the lead up to the royal wedding. "I do think there is some truth to there having been some tension—not just between the duchesses but between the dukes, as well," she said. "As we all know, things can gather momentum pretty quickly. So while I think there's been tension, I don't believe there has been some feud."
"I do know that Meghan and Kate have come to an agreement to get along, to make an effort, to be amiable and warm towards each other in public," Nicholl continued. "They both realize it's in neither of their interests to have these catfight headlines. It's not what either of them want."
Kate made headlines recently after giving Meghan a seriously warm welcome at the Commonwealth Day service at Westminster Abbey. The Duchess of Cambridge made sure to embrace the Duchess of Sussex when she arrived.
A source told Vanity Fair that the act was very intentional. "There are no bad feelings, and I think Kate was keen to put an end to these rift rumors. She has no problem with Meghan, and she has made it clear to Meghan that she's there for advice or whatever Meghan might need," the insider revealed.
Kate and Meghan may not be best friends, but it seems those persistent feud rumors were just that: rumors.
Photo: Getty
Chat About Meghan Markle & Kate Middleton Made "An Agreement" To Get Along