Simple Creatures Just Played Their First Ever Show: See The Setlist
By Katrina Nattress
March 29, 2019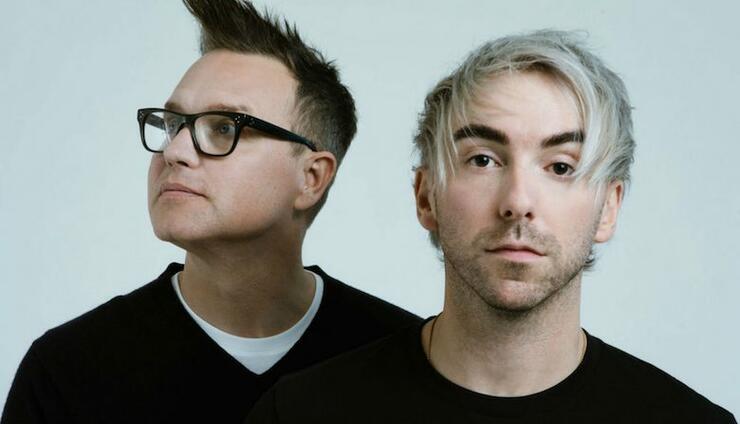 Mark Hoppus and Alex Gaskarth first let the world know about their project Simple Creatures back in January. Since then, the duo has teased the release with three singles — "Drug," "Strange Love," and "Adrenaline" – and on Friday (March 29) they dropped their debut EP, Strange Love.
To celebrate the release, the blink-182 singer/bassist and All Time Low frontman are playing a handful of shows, beginning with Los Angeles on Thursday (March 28).
Gaskarth recently told Kerrang! that their live sets were "somewhere between a rock show and an EDM hip-hop show".
"It's pretty crazy," he says. "There's a lot of moving parts, and we've been figuring out how to do it live. It's just the two of us and we don't have a live band – we don't have a drummer. It's sort of landing somewhere between a rock show and an EDM hip-hop show! And I think that's what's really interesting about this project: we knew that, to do this right, it was going to have to be some sort of strange hybrid of genres. And, even down to the live element of it, it is truly that. We're running a lot of stuff off these insane sample pads, and I'm playing more instruments than I know what to do with so far! That's a very interesting element of the show. At any given moment, we're both on keys, I'm on bass, Mark's on guitar and then we're swapping guitars, and then I'll be playing the sample pads, and we're looping a beat and playing on top of that… it's pretty crazy. There's a lot of interactivity in the show for us, but, at the same time, it still really feels like this energetic rock show."
The "trash pop" duo treated fans to a nine song setlist at their first show ever. The setlist included the six songs that comprise Strange Love, along with a cover and two additional originals. Check out the setlist below.
Simple Creatures Los Angeles setlist
1. Drug (Live debut)
2. Adrenaline (Live debut)
3. How To Live (Live debut)
4.NVM(Live debut)
5. Personal Jesus (Depeche Mode cover)
6. Ether (Live debut)
7. One Little Lie (Live debut)
8. Lucy (Live debut)
9. Strange Love (Live debut)
Chat About Simple Creatures Just Played Their First Ever Show: See The Setlist