Pink Reveals 'Hurts 2B Human' Track List & Sassy New Single 'Hustle'
By Paris Close
March 30, 2019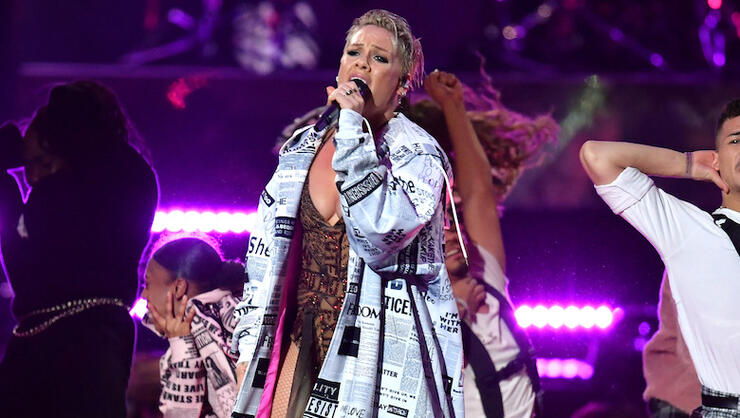 Pink warns she's not to be toyed with on her latest single.
On Friday (March 28), the pop star surprised fans with a fiery new track called "Hustle" as well as the complete track list for her upcoming eighth studio album, Hurts 2B Human, out April 26.
On the ferocious anthem, produced by Jorden Odegard, Pink cautions her loverboy not to mistake her love and tenderness as something to be abused or taken advantage of. "I gave you soft, I gave you sweet/ Just like a lion, you came for a sheep/ Oh no, don't try to hustle me," the singer-songwriter opens the record. "You took my love, mistook it for weakness/ I guarantee I won't repeat this."
"Hustle," penned by Pink, Imagine Dragons' frontman Dan Reynolds and Odegard, is all bark, all bite — and the perfect send-off to kickstart the songbird's long-awaited LP.
The vocalist's latest offering follows previously released tunes "Walk Me Home" and "Love Me Anyway," the latter of which features verses by Chris Stapleton. Hurts 2B Human also includes appearances by Khalid, Wrabel and Cash Cash.
Hear "Hustle" and see the track list for Pink's new album below.
Hurts 2B Human Track List
1. "Hustle"
2. "(Hey Why) Miss You Sometime"
3. "Walk Me Home"
4. "My Attic"
5. "90 Days" featuring Wrabel
6. "Hurts 2B Human" featuring Khalid
7. "Can We Pretend" featuring Cash Cash
8. "Courage"
9. "Happy"
10. "We Could Have It All"
11. "Love Me Anyway" featuring Chris Stapleton
12. "Circle Game"
13. "The Last Song of Your Life"
Photo: Getty Images
Chat About Pink Reveals 'Hurts 2B Human' Track List & Sassy New Single 'Hustle'