Radiohead Get Inducted Into Rock & Roll Hall Of Fame By David Byrne: Watch
By Katrina Nattress
March 30, 2019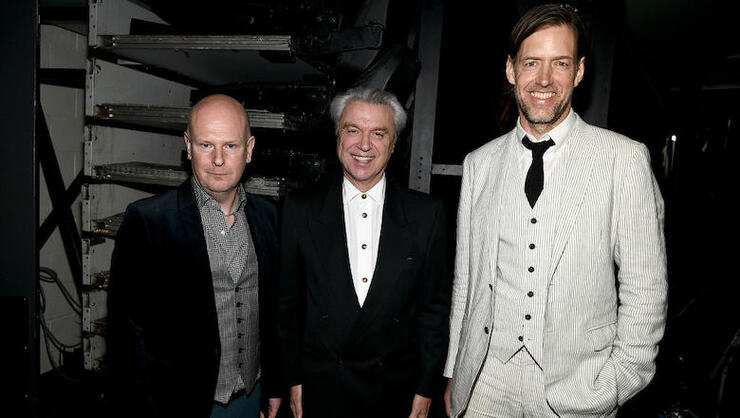 On Friday (March 29) Radiohead joined the ranks of the rock elite when they were inducted into the Rock & Roll Hall of Fame. And it was only fitting that they were introduced by David Byrne. They did name their band after a Talking Heads song, after all.
When the iconic singer-songwriter stepped on stage, he had nothing but rave things to say about the experimental rockers (after admitting he was perplexed on why they would name themselves after that particular song).
"They richly deserve this honor for two reasons," Byrne declared. "the music, the quality and constant innovation in the music, but equally for the innovations in how they release their work and how they market it and get it to the public—things that have changed the entire music business, and there's quite a few people in the music business in this room tonight. They're creative and smart in both areas, which is a rare combination for artists—not just then or now but any time."
He went on to praise their innovation and fearlessness when it came to artistic risks. He also let everyone know that Kid A was the "conversion moment" for him.
Watch his glowing speech below.
Though Thom Yorke was absent at the ceremony, Radiohead guitarist Ed O'Brien and drummer Phil Selway were there to accept the honor on behalf of the band. "Radiohead can be an awkward and challenging band to be in," Selway confessed. "We may not be the greatest musicians around, and we're certainly not the most media friendly of bands. But we have become very adept at being Radiohead, and when that connects with people it feels amazing."
O'Brien thanked his fellow band members, even if they weren't there. "We've been doing it for 34 years and are still doing it. I want to thank them for their integrity, their authenticity, their commitment," he said. "None of these things you should take for granted. I also want to thank them for the musicians they are. That thing when we play together; that collective sound that we make. Some of the nights we have in the rehearsal studio where they're like transcendental moments. I thank them for that. But most of all I want to thank them for this deep, deep friendship."
Stevie Nicks, Janet Jackson, Roxy Music, Def Leppard, The Cure, and The Zombies were also inducted into the Rock & Roll Hall of Fame during the special event at Brooklyn's Barclays Center. HBO is set to run a broadcast of the ceremony on April 27.
Photo: Getty Images
Chat About Radiohead Get Inducted Into Rock & Roll Hall Of Fame By David Byrne: Watch