How Saweetie Bossed Up Her Attitude For Her 'ICY' EP
By James Dinh
April 1, 2019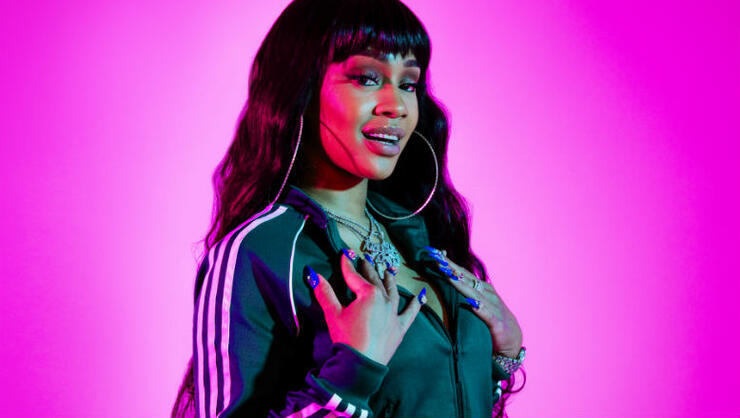 Saweetie wrote her breakout hit, "ICY GRL," as a motivation anthem for all the females out there — and it worked. Atop the instrumental to Khia's 2002 single "My Neck, My Back," the freestyle initially started as one of her many Instagram car raps, but it took on a life of its own. Forget the fact that the budding Bay Area rapper filmed the video while she was renting rooms off of Craigslist. With the nostalgic bounce of the sex-drenched anthem, Saweetie tapped into her braggadocios side, effortlessly spitting bars about grinding hard, focusing on her craft and investing in her business. As part of her debut EP, High Maintenance, the single helped the set cross the one-year anniversary mark with flying success. To her benefit, it also set the bar for future career accolades, which already include her record deal with Warner Bros, a gold certification for the breakthrough hit, 1.8 million Instagram followers and, of course, her bachelor's degree from the University of Southern California.
Take a listen to her sophomore EP, ICY, which dropped on Friday (March 29), and it's clear that Saweetie is ready to step up her game, while keeping her hustle mentality strong. She knows she has a long way to go to perfect her craft, but her focus has been her priority since the beginning. Prior to dropping the collection, the rapper stopped by iHeartRadio to talk about the seven-track set, lead single "Emotional" featuring her boyfriend Quavo and what she's learning about herself throughout this whole process.
Talk to me a little about how the ICY EP is different from the High Maintenance.
Well, for one, it's been exactly a year since High Maintenance, so the EP just has a stronger, confident and vibratious energy that High Maintenance had but it wasn't there [yet]. Honestly, ICY EP is an attitude. Once you get it, I feel bad if you got a girl because she's going to be on her high horse.
I think that's the fun part of watching you grow in real time. From from listening to High Maintenance and then "Pissed," I hear the growth.
Yeah, "Pissed" definitely shows growth. It was something that I had fun with in the studio. Like I said, it's an attitude. When people listen to my music, I want them to feel bossed up, icy and confident.
Was that the mentality going into this record?
Not necessarily. It was more so I want to go and experiment because right now I'm still finding my sound. But I feel like I'm on my way to having my Saweetie sound.
What's something you're learning about yourself as you're working on your craft?
I must say, at first, it was a little difficult for me to explore tones because I'm a very chill and laid back person but I'm finding out that there's other attitudes and approaches that I like when recording in the studio.
Your story goes all the way back to writing poetry, rapping in your car and then the viral popularity that happened with "ICY GRL." What did you enjoy most about your breakout year?
One thing that I really enjoyed and one thing that really helped launch my career is the fashion world. "ICY GRL" was bigger than me. It went over to runway shows, fashion week, and that's how I kind of got my feet wet into fashion. That's something that I really enjoyed.
What can you tell us about the track "Emotional"?
It is exciting, I love the feature that's on it. It's a very fun song, but it kind of sheds light on how dysfunctional relationships are nowadays, and if you really listen to the lyrics, it kind of explains that. I want people to realize what they're doing, although it's cool for the time being, it does create tension and conflict in relationships.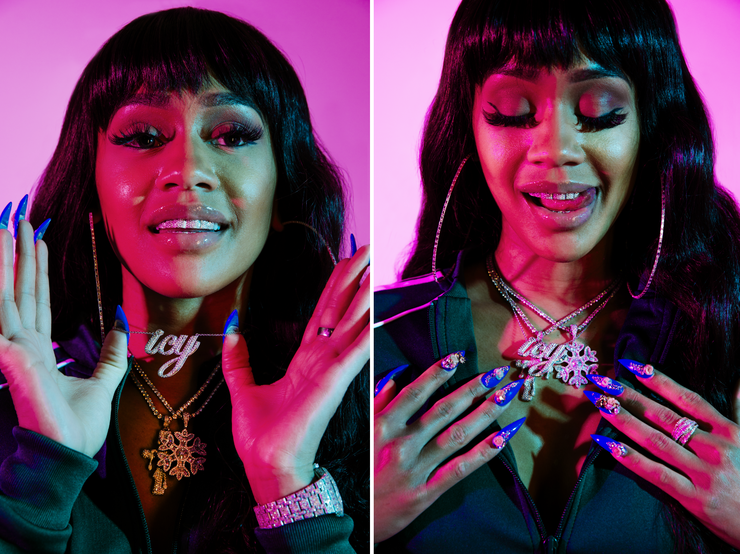 You also have collaborations with Gunna and 2 Chainz on deck.
I do, but those aren't on the project.
You were recently in Miami with Timbaland. He's been such a pioneer in jumpstarting females like Aaliyah and Tweet.
Timbaland has a very infectious and creative energy, and I love working with him, so I want to just be on point all times. I don't wanna slack off and be on my phone in the studio. I don't want to take any breaks when I'm working with him because he's nonstop. I'm trying to keep up.
As you're working with different people, you probably have come across some bad seeds, too. How have you navigated being a female emcee in a predominantly male-dominated genre?
Fortunately, I haven't crossed too many bad seeds. But just being a female emcee, I feel like it's a great time. There's a bunch of us out there right now, so I don't take a female approach to things. I just enjoy myself and work my ass off.
Social media is also a huge part of your story, dating back to your Money Makin' Mamis clothing line. How do you maintain a healthy head space with social media?
For me, it's extreme. I either don't want to be on it or I'm on it a lot because I have to post and promote. That's one thing that has kind of changed for me. It's not just for pleasure. It's like my Instagram is a part of my work space.
The video for "Yuso" with Kid Ink and Lil Wayne recently dropped and I know that you have a little history with Weezy, considering you wrote your first freestyle to "A Milli." What was your interaction on set?
Well, I was trying to not fangirl out, but it was extremely exciting and he's so nice. I didn't expect him to be just so nice and humble. He came up to me and was like, 'Nice to meet you,' and I'm like, 'Whatchu mean?'
Speaking of big names, you're going on tour with Cardi B and Kevin Gates. How did that partnership come about?
You know, I've heard that people normally choose their openers, so if she did pick me, I'm very honored because she's killing it right now. I'm excited to just go on tour with people who are seasoned and with people who I can learn from.
Lastly, I heard you recently auditioned for a hip-hop TV show. What can you tell us about that?
Yeah, it's a hip-hop show. I don't want to release the name yet, but it's for an upcoming series and if I do get the role I'll be excited because this series is based on a very important part of hip-hop culture.
Photo: Katherine Tyler for iHeartRadio
Chat About How Saweetie Bossed Up Her Attitude For Her 'ICY' EP