Mark Hoppus Explains How Simple Creatures Will Inform Blink-182's Future
By Katrina Nattress
April 2, 2019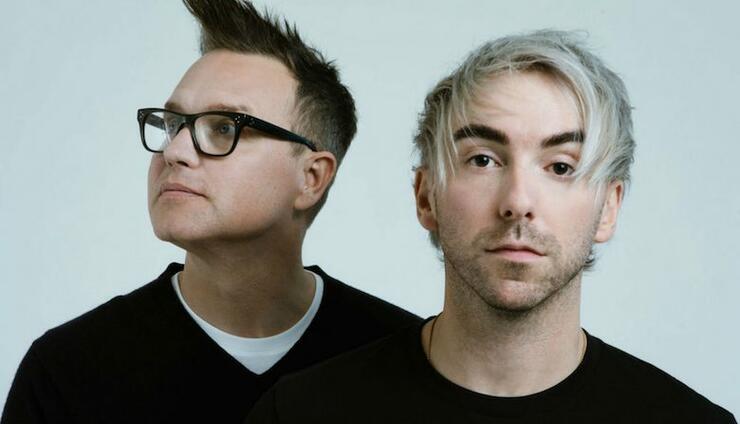 Last Friday (March 29), Simple Creatures put out their debut EP, Strange Love, and celebrated its release with a handful of shows. Over the weekend, Mark Hoppus and Alex Gaskarth visited Philadelphia's Radio 104.5 to field questions from fans before their show at Warehouse on Watts Sunday night (March 31).
While the questions were, of course, geared toward the duo's current project, the topic of blink-182 was bound to come up, and Mark gave us some interesting insight into the band's future.
"[We went] into the studio with a totally different mindset—we would walk in and try to find a weird sound that sounded cool to us or some kinda happy accident," he explained about recording music for Simple Creatures, "and I guess that's kinda how we're writing with blink now. So I think that the writing process for Simple Creatures has informed how I want to approach blink in the future. Not necessarily stylistically or things like that, but just trying to get away from picking up an acoustic guitar and writing from there. Trying to write more based around rhythm."
He also expressed interest in doing a side project tour with blink, and even name dropped his former bandmate Tom DeLonge's project, Angels & Airwaves. "We've actually talked about doing a blink side projects tour, where it would be Transplants and Angels & Airwaves and blink and +44 and everything that anybody's ever been involved with," he divulged. An AVA inclusion would surely mean a Tom reunion, right!?
While we wait with bated breath for that to come to fruition, watch Mark and Alex discuss everything from balloon animals to other names they had in mind for the project (their number one choice was "Hot Cousins," but it was taken) below.
Chat About Mark Hoppus Explains How Simple Creatures Will Inform Blink-182's Future