Kim Kardashian Hints That She's Forgiven Tristan Thompson & Jordyn Woods
By Peyton Blakemore
April 3, 2019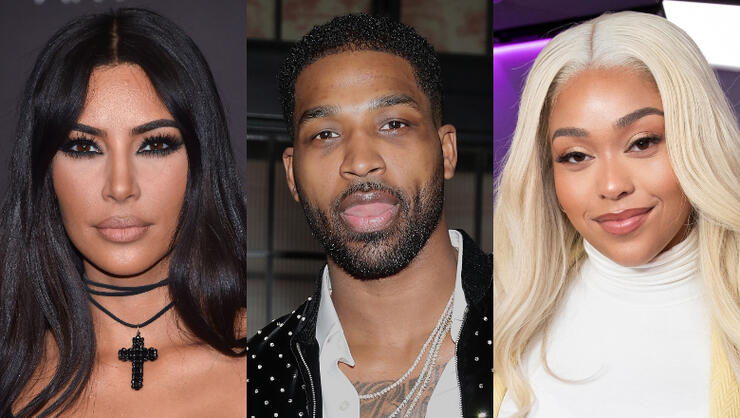 Kim Kardashian is moving forward.
The Keeping Up with the Kardashians star may have been one of the first to throw shade at Jordyn Woods and Tristan Thompson over their now-infamous cheating scandal, but, she appears to be over the drama as she hinted that she's forgiven them both.
"I think there's always a time and a place for everything and I think boundaries are good, lessons are good, forgiveness is good," the 38-year-old reality star told Entertainment Tonight on Tuesday (April 2), when asked about the drama. "It's all good, but you really have to talk to the people that were more involved."
As fans know, the people involved — Khloé Kardashian, Jordyn, and Tristan — have been quiet about the scandal since Khloé placed blame on Tristan for breaking up their family. As shown in the recently released KUWTK season 16 trailer, she had a lot to overcome following news of Tristan and Jordyn's house party kiss.
"It just sucks it has to be so public," Khloé said through tears in the emotional trailer. "I'm not just a TV show. Like, this is my life." She then yelled at someone over the phone, "My family was ruined!" Later, the 34-year-old reality star is heard saying, "Tristan might love me, whatever that means. He has no respect for me whatsoever."
At another point in the minute-and-a-half clip, Khloé appears to confront Jordyn about her kiss with Tristan. "You called and told me you were the watchdog," she said. As fans know, Jordyn reportedly called Khloé following her house party kiss with Tristan, claiming nothing happened with him and other girls at the party, adding that she was there to be a "watchdog."
Photo: Getty Images
Chat About Kim Kardashian Hints That She's Forgiven Tristan Thompson & Jordyn Woods