Robert Pattinson Rewatched 'Twilight' & Decided He Doesn't Hate It Anymore
By Emily Lee
April 3, 2019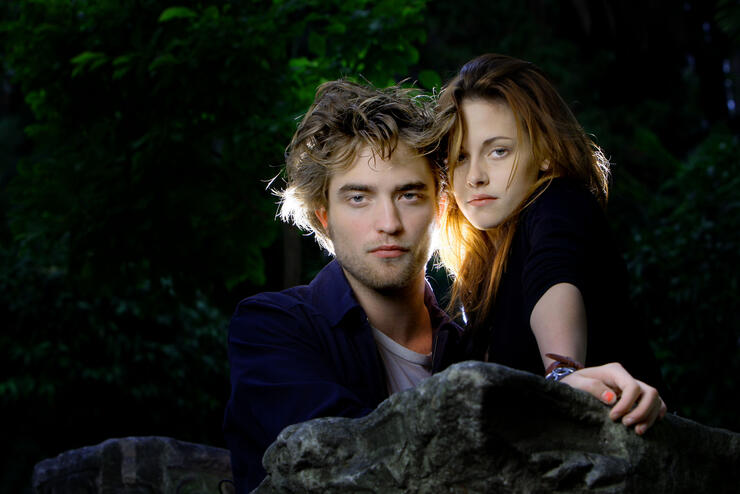 It seems like only yesterday that Robert Pattinson told Moviefone he would "mindlessly hate" Twilight if he didn't star in the blockbuster film franchise. Yes, he said this *while* promoting the third installment of the series, Twilight: Breaking Dawn Part 1. Now, though, 10 years after Twilight premiered, Pattinson rewatched New Moon and decided he actually doesn't hate the movies anymore.
"It seems like with younger people in their late teens, early 20s, it's sort of become quite a hip thing to like," Pattinson told USA Today. "It's a fascinating second wave of people appreciating it, which is kind of cool. I think when anything becomes a massive phenomenon, there's always people who get annoyed because it's just everywhere. But now it seems like a retro thing: the soundtrack, the fashion. It's like, 'Oh, that's so late 2000s.'"
Not only does he appreciate how the movies are finding a new audience all these years later, he actually is part of that new audience. He talked about watching part of New Moon "just the other day" and said "it genuinely does have an incredibly good soundtrack. I completely forgot, but the soundtracks were quite ahead of their time."
Another reason he's able to enjoy Twilight now? The mania surrounding the film franchise, as well as Pattinson himself, has quieted down over the years. "It's lovely now that the mania is not so intense. People come up (to me) and just have very fond memories of it. It's a really sweet thing. I think the only scary part was right in the thick of it all, when it was very, very intense. Now the intensity has died down and it's just very warm memories," he said.
OK, who else is rewatching Twilight tonight now? If Edward Cullen himself is doing it, I mean, we all have to, right?
Photo: Getty
Chat About Robert Pattinson Rewatched 'Twilight' & Decided He Doesn't Hate It Anymore