The Best Podcasts For Kids
By Dave Basner
March 26, 2020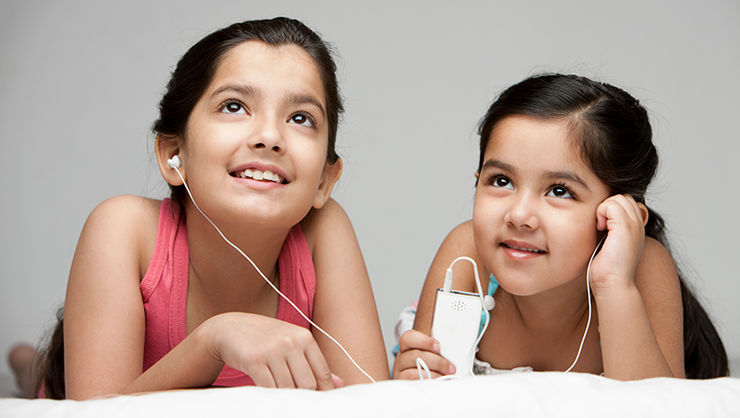 Ask any adult what their favorite podcast is and they'll be able to rattle off a list of compelling pieces of audio entertainment, but if you ask a kid about theirs, they might not even be able to tell you what a podcast is. However, there are actually hundreds of great podcasts geared towards kids of all ages, and some of those podcasts rise above the rest because of how entertaining and educational they are. Here is a list of some of the best podcasts for kids that will have your children begging you to let them listen to just one more episode.
Wow In The World
There is so much on the planet and beyond it, and Wow In The World explores it all. Hosts Mindy Thomas and Guy Raz take kids and parents on a journey examining everything around them as they look inside a brain, investigate outer space and much more, ensuring that even the most curious minds find satisfying answers. It's so good it won the iHeartRadio Podcast Award for Best Kids & Family Podcast.
Story Pirates
The beauty of Story Pirates is that it's made up of stories for kids, by kids! The performers, which includes world-class actors, comedians, musicians and improvisers, adapt tales written by children into some of the most entertaining sketch comedy and musical theater you've ever heard.
Brains On!
If you've got a science-loving kid who is curious to learn more about everything from why we sneeze to what a cat is saying when it purrs, make sure to listen to Brains On! The podcast is co-hosted by kid scientists and public radio reporters as they investigate some of life's most burning questions.
The Alien Adventures of Finn Caspian
For kids who might be more interested in serialized stories, The Alien Adventures of Finn Caspian is for them. The science-fiction series is short (15-20 minutes per episode) and very entertaining. It's about an 8-year-old boy and his friends who explore uncharted planets as they help aliens and solve mysteries.
Sesame Street Podcast
Sesame Street doesn't just have to be your kids' favorite TV show, it can be their favorite podcast too! These 5 to 10 minute pieces feature the likes of Elmo, Abby, Cookie Monster, Grover and the rest of the gang singing songs and helping teach about friendship, patience, sharing and more.
Dream Big Podcast
Seven-year-old Eva Karpman knows how to dream big and it's all thanks to this inspiring podcast which she hosts with her mom. In 15-20 minute episodes, the pair interviews some world-famous celebrities and achievers to determine how they get to live their dreams. Among the people they've spoken with are scientist Neil DeGrasse Tyson, Ellen DeGeneres, Olympian Scott Hamilton, Lady Gaga, Taylor Swift and Oprah Winfrey.
Pickle
Kids can ask some profound questions and Pickle delves into many of them. From "Is it ever okay to tell a lie?" to "What makes a real friend?" the podcast promises to have your little one thinking deeply about things. They promise to explore life's "stickiest wickets" and describe the show as "philosophy, made fun."
ExtraBLURT
ExtraBLURT isn't just a podcast, it's an audio game show, and your kid can play along! Children are welcome to shout out the answers in a bunch of fun games. Each episode as a different theme - everything from pirates to outer space. Whether kids play with friends, grown-ups or by themselves, they're sure to have a blast.
The Unexplainable Disappearance of Mars Patel
This podcast, described as "Goonies meets Spy Kids meets Stranger Things," has everything an 8 to 12-year-old looks for in a podcast and best of all, it's performed by actual kids. The story, which is about 11-year-old Mars Patel and his friends who set out on an outrageous adventure to find their two missing friends, might be your child's first experience with binging a podcast.
Chompers
Tooth brushing time can be a challenge. Most kids don't want to keep brushing for an adequate amount of time, but Chompers fixes that. Each episode is just a couple minutes long and is filled with jokes, riddles, stories, fun facts and silly songs that will have three to seven-year-olds not wanting to leave the bathroom.
Bedtime Explorers
If you're looking for some magic to get your wound-up kids relaxed enough to go to sleep, Bedtime Explorers is for you. Hosted by mindfulness coach Amy Taylor-Kabbaz, the podcast uses meditation techniques to soothe children to sleep. Each episode includes a journey to magical places that help kids slow down and snuggle up.
You can find all these kid-friendly podcasts and many more here. You can also listen to them on the iHeartFamily app. If you don't yet have the app, grab it for iOS here or android here.
With iHeartRadio, listeners can enjoy their music and podcasts across more than 250 unique device platforms including in-car, in-home, on wearables, across gaming consoles and more – making their favorite audio content available everywhere they are, on the devices they use most. Visit iHeart.com/apps to download iHeartRadio and listen on your favorite device now. You'll have access to news, sports and lifestyle info from your favorite personalities all for free, plus, click here for free podcasts like The Ron Burgundy Podcast, Atlanta Monster/Monster: The Zodiac Killer, Stuff You Should Know, Business Unusual with Barbara Corcoran, DISGRACELAND and hundreds of others.
Photo: Getty Images