Chrissy Metz Makes TV Singing Debut With Carrie Underwood At ACM Awards
By Hayden Brooks
April 7, 2019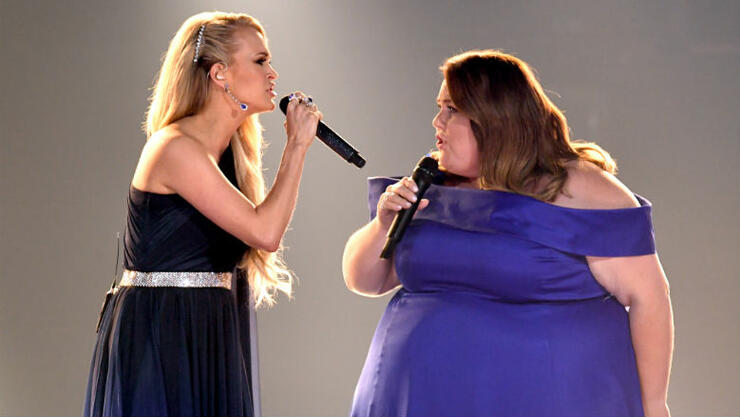 Chrissy Metz fulfilled one of her longtime dreams when the This Is Us actress made her television singing debut at the 2019 ACM Awards on Sunday night (April 7) alongside country acts like Carrie Underwood, Lauren Alaina, Mickey Guyton and Maddie & Tae.
After introductions by Underwood, the 38-year-old star took to the stage in a simple blue dress to kick off the Diane Warren-penned "I'm Standing With You," a track off the soundtrack to her new film, Breakthrough, which hits theaters on April 17. As teased in the days leading up to the ceremony, the performance of the emotional ballad saw several assists from the aforementioned acts, who steadily joined in on her number, but Metz certainly showed her potential and held her own. "As an actress, you're not always taken seriously as a singer," Metz recently explained. "You can't always cross over, whether it's drama to comedy or an actress to musician. I can't even believe it's happening. I really, really can't. It's been a gift on top of a gift."
Prior to the show, Universal Music Group Nashville President Cindy Mabe, hyped up the number by emphasizing the strong female connection between music and television for the star-packed performance. "We are the soundtrack of this real-life story because our music is about real-life stories," Mabe admitted. "This performance lets Chrissy have her moment that she's always wanted to have, and there's the female standpoint of where we are in a moment in time in country radio. We have (one of the most recognizable names) on television with (one of the most recognizable names) in country music creating a platform for other women to shine. This is a gift."
Stay tuned for even more from the 54th ACM Awards, including an up-to-date list of winners, as well as recaps of all the other buzzworthy performances from the Reba McEntire-hosted ceremony!
Chat About Chrissy Metz Makes TV Singing Debut With Carrie Underwood At ACM Awards