How Thomas Rhett's Daughters Ended Up In His 'Look What God Gave Her' Video
By Hayden Brooks
April 8, 2019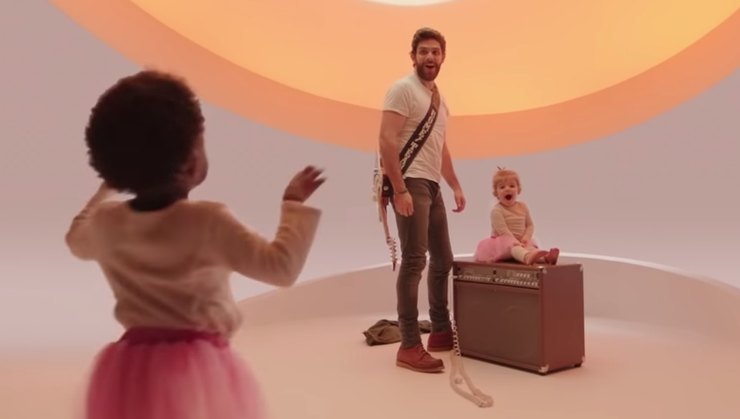 Thomas Rhett's new video for "Look What God Gave Her" is a simple vision with the country titan in a number of colorful set-ups. However, the real shining moment of the video falls on the cameos from his high school sweetheart-turned-wife Lauren and the pair's daughters Ada James, 19 months, and Willa Gray, 3.
While Rhett's new clip dropped on Saturday (April 6), the 29-year-old star spilled the goods on including the familiar faces just a day later on the red carpet of the 2019 ACM Awards. "It's really a family-affair kind of thing," he told PEOPLE of the video, which was directed by TK McKamy. "They weren't supposed to be in the video. They were standing back there, had their little ballerina skirts on and during the middle of a shot, they just ran out there — and we kept the shot. 'Cause any time they're there, it just makes it sweeter." In addition to his family, the video also highlights the beauty of the female spirit, with several women of different sizes, ages and colors sprinkled throughout the clip.
"Look What God Gave Her" is set to appear on Rhett's new album, Center Point Road, which is due in May, and focuses entirely on his love for Lauren. "The song really is just a thanks to the good Lord for all the amazing talents He blessed my wife with, inside and out, and the song really just represents her in an amazing way," he continued.
During the Sunday broadcast, Rhett took home the honor of Male Artist of the Year and offered the Sin City audience with a lively performance of the track. Scroll on below to relive the music video!
Photo: YouTube/Thomas Rhett
Chat About How Thomas Rhett's Daughters Ended Up In His 'Look What God Gave Her' Video