2 Chainz Talks Collaborating with Ariana Grande, LeBron James & More
By Nicole Mastrogiannis
April 9, 2019
It's been an excellent 2019 for 2 Chainz so far, and the year isn't even halfway over yet. The rapper released his new album, Rap or Go to the League, which is executive produced by NBA star LeBron James and includes a star-studded list of features including Ariana Grande, while also collaborating with Grande on a remix to a song off of her new thank u, next album, "7 Rings."
2 Chainz tells iHeartRadio that the "7 Rings" remix collaboration came about after Ari shared the pink-themed music video, which took inspiration from the rapper's Pretty Girls Like Trap Music aesthetic. The pink house on the "7 Rings" cover art and all of the pink in the music video are strikingly similar to the house featured on the Georgia native's album cover. The rapper tells us, "The aesthetics of my last album was a pink trap house; everything was pink, from the car, we had a pink stove. What we did with Pretty Girls Like Trap Music, is use a lot of the negative connotations of the trap, which would be anything like the old school car, or just anything dealing with drugs, and we had it pink. And so, she came back, and she dropped '7 Rings,' and the video had a similar aesthetic. And I did a [social media] post, but I wasn't that serious about the post because I obviously didn't come up with the color pink, but you know, it was just remotely close to what I did. And her management called my management, I've known her management for quite some time, put us in the room together, and she basically told me that she got it from [PGLTM], you know, whatever and I didn't even realize that she was a fan of my music. So, I felt like I had some catching up to do. And we built the rapport, and we actually did those songs the same [time]; '7 Rings' and 'Rule the World,' and they're both doing excellent right now. So, God is good."
He adds of the collaboration process, "My favorite part about working with Ariana is just her energy in the studio, being in there with her, just seeing such a small frame with such a huge voice. Stoked to be there for that."
Recently, 2 Chainz surprised Ari's fans when he showed up at the Boston stop of her new tour to perform "Rule The World." He explained about what it was like performing for all of her fans, compared to performing during one of his own tours, "When I went out and performed with Ariana in Boston, I thought it would be just her fans, but I soon realized that I'm a pop star myself. So, it was great energy. I came out there, we did the song, and it was just beautiful. They received me with open arms, and I can't wait to do it again."
Aside from the two hit collaborations with Ariana Grande, one of which is included on 2 Chainz's Rap or Go to the League album, is his new album itself. The 14-track set follows 2017's Pretty Girls Like Trap Music, and also includes features from artists like Lil Wayne and E-40, Travis Scott, Kendrick Lamar, Chance the Rapper and Kodak Black, Young Thug, and more. And the executive producer? 2 Chainz's friend and NBA superstar LeBron James.
Both 2 Chainz and James have been extremely supportive of each other's careers, and when asked about what his favorite part about working with LeBron was on his latest project, the rapper explained that it was simply hanging out with him and talking about everything from their kids, to sports and beyond. 2 Chainz recalls:
"One of my fondest memories of working with LeBron, was just actually being in the studio with him. Getting his taste for music, getting his ideas for videos and just talking about sports, and just being elbow to elbow with such an American star whose so grounded and down to earth. So, those are some of my best memories, talking about our kids, talking about a wide range of things, and at the same time, being in the studio environment, which was just really a cherry on top for me."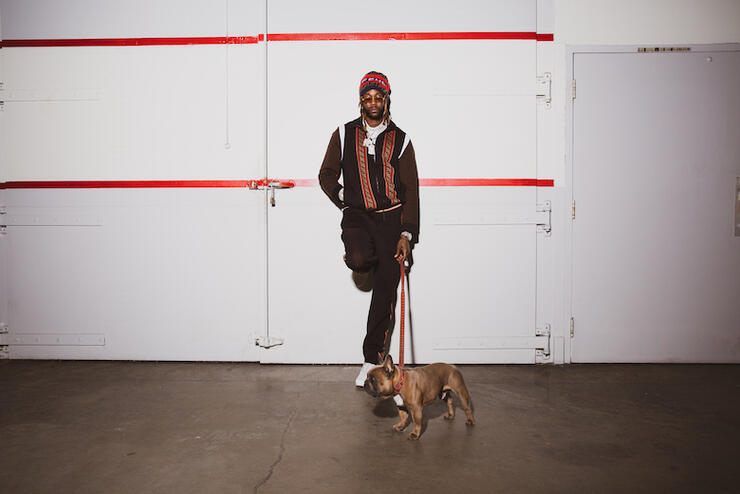 Chat About 2 Chainz Talks Collaborating with Ariana Grande, LeBron James & More