Radiohead's Ed O'Brien Reveals What Robert Plant Told Him About Virtuosity
By Andrew Magnotta @AndrewMagnotta
April 9, 2019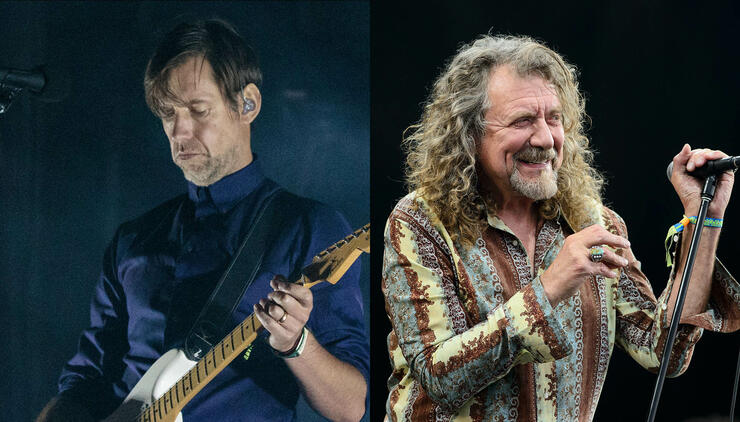 Radiohead and Led Zeppelin are two vastly influential bands from vastly different times, so something interesting was bound to happen when members of the two outfits eventually crossed paths in the late-'90s.
Radiohead guitarist Ed O'Brien recalls performing at a fundraiser for Amnesty International with Jimmy Page and Robert Plant in 1998. Despite dozens of charity shows Plant has performed over the years, O'Brien was surprised to learn after the fact that Radiohead made a big impact on the iconic singer that night.
"Many years later, we got to hang out, we got to meet Robert — such a lovely guy," O'Brien told That Pedal Show. "He said, 'Yes, when I saw you guys, I saw the light: the Age of Virtuosity was over' (laughs)."
Plant was "being cheeky," of course. But O'Brien added that there's a lot of truth to his sentiment.
"He also understood that you didn't need to be a virtuoso anymore ... I think music's changed. However, you have to put the work in. You have to do the time; it's a different thing."
Radiohead identifies more with the punk and new wave movements that came about in the late-'70s as a reaction to Led Zeppelin's perceived self-indulgence. But O'Brien went on to explain that while, no, he's not a virtuoso at all, he's always working on his craft.
"All those '60s guys, guitarists, who'd done it so well — [virtuosity] was their new horizon," O'Brien continued. "So when we came along [in the '90s], that wasn't new, that didn't feel exciting. ... I think it's that spirit of trying to keep doing something new. It's not always easy, and it's not always possible."
While doing press last year for his latest studio album, Carry Fire, Plant discussed what an impact Radiohead had on him. While he hasn't said in so many words that he enjoys the band's music, he indicated that it helped him more acutely understand the changing musical landscape of the '90s.
"I saw the guitarist in Radiohead [and] when it was time for a solo," Plant recalled, "he just knelt down and started messing with his pedals. Got some squelch s--t going on and all that sort of stuff. I went, 'Well, that's a lot different to the world I've been in, of expressive gesture and stuff.' I realized it was time to change. Then I started writing."
Photo: Getty Images
Chat About Radiohead's Ed O'Brien Reveals What Robert Plant Told Him About Virtuosity