Drake Literally Stopped His Concert After Seeing This Fan's Sign
By Lauren Crawford
April 10, 2019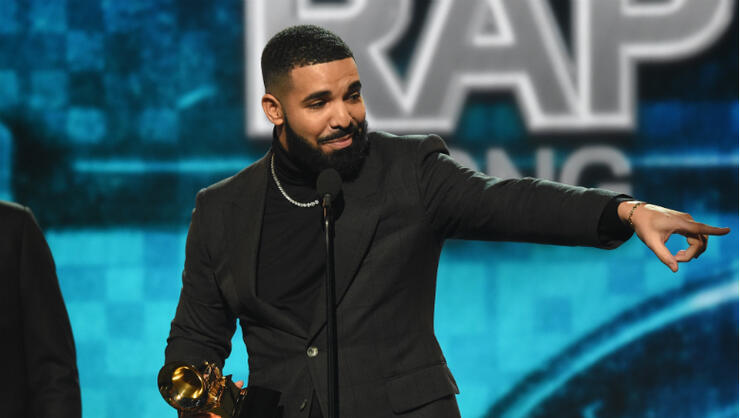 Drake is out here making dreams come true!
During his latest concert at the London O2, the "In My Feelings" rapper literally stopped his show to take a moment and acknowledge one of his fans' homemade signs.
"I heard you like BBWs," read the handwritten message on a poster board that included the female fan's Instagram handle. (For those who don't know, BBW stands for Big Beautiful Women).
Like clockwork, when Drake made his way to her side of the stage, he spotted the sign and at first simply pointed at it, which sent her screaming. However, his acknowledgment didn't end there. The "God's Plan" rapper then stopped his show to give her a shoutout. "You can't hold signs like that," he joked. "You're gonna make me laugh." (*runs to go make a catchy sign*)
As fans know, the fan's note to Drake is in reference to his verse on Nicki Minaj's 2014 track "Only," where he raps "She say I'm obsessed with thick women and I agree/yeah, that's right I like my girls BBW."
Drake's concert shoutout came days after he brought Future out for another one of his London shows. Following their concert performance, the two hopped on Instagram and teased the follow-up to their 2015 collaborative mixtape, What a Time to Be Alive.
"What's that?" Drake said in the video as he held up two fingers, seemingly meaning What a Time to Be Alive part two is on the way. "We gotta cook that up. That two."
"It's already cooked up," Future responded. "Top secret."
The collaborators' WATTBA tease is nothing new. Last month, multiple sources told OnSmash, "Future and Drake have already completed a sequel to 2015's What a Time to be Alive."
Photo: Getty Images
Chat About Drake Literally Stopped His Concert After Seeing This Fan's Sign