Jason Bonham Recalls 'Meowing Woman' In Jimmy Page's Hotel Room
By Andrew Magnotta @AndrewMagnotta
April 10, 2019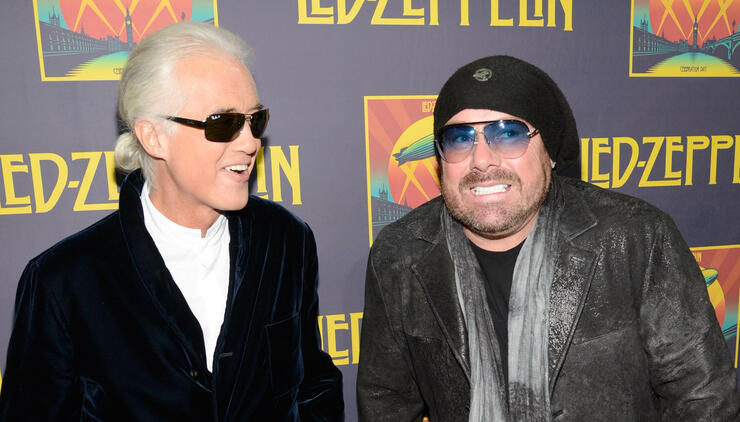 The heights of Led Zeppelin's debauchery are infamous, and every few years a new story emerges.
Now Jason Bonham, the son of Zeppelin drummer John Bonham, has revealed his first taste of Zep's incalculable excess, which came when he was still a teenager just a few years after his father's passing.
Jason told Howard Stern in a recent interview with his latest project, Sammy Hagar & The Circle, that it was Jimmy Page who first introduced him to cocaine.
"We got called to his room," Jason recalled. "I was 16 at this point, and there was a woman on the floor with a collar on, meowing, and he had this grinder thing ... and he turned it over and he went, 'Here you go,' and I went, 'Thanks.' He's like, 'You've done this before, right?' And I'm like, 'Yeah, of course I have.' So he handed it over and I just did all of it, and he went, 'Just like your father — you know, that was supposed to be for all of us.'"
Sixteen was a year of experiences for Jason, who has previously said it was AC/DC's Brian Johnson who gave him his first taste of alcohol at that age.
Jason worked with Page a number of times over the years. He recalled another incident when he ducked backstage during one of Page's lengthy guitar solos in search of cocaine.
"I would be doing blow, and they found out, so Jimmy cut his guitar solo short," Jason said. "I was halfway down into the dressing rooms and I suddenly hear I'm supposed to come in now. ... So we ran back and Jimmy's just standing there. He was angry because we didn't offer him any."
But Jason continued, telling Stern, that after years of trying to be "just like Dad" as both a drummer and a partier, he decided to choose the drums and living a longer, healthier life. He says his biggest vice nowadays is candy.
Photo: Getty Images
Chat About Jason Bonham Recalls 'Meowing Woman' In Jimmy Page's Hotel Room