21 Celebrities Who Are Great Cooks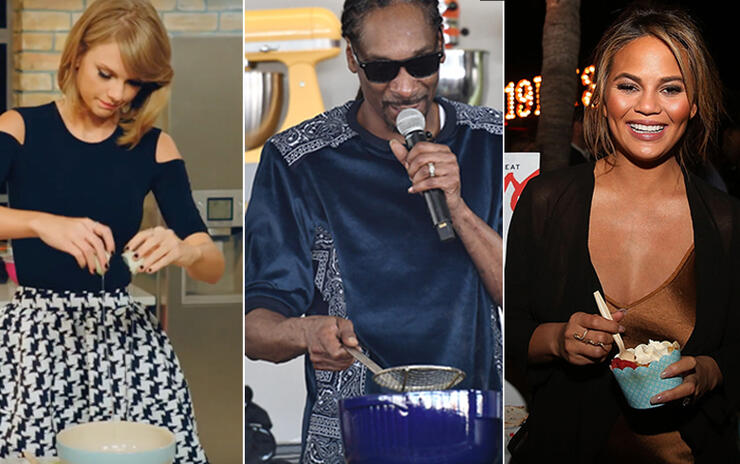 While it's true that private chefs are a staple for many celebrities, some of them actually enjoy cooking -- and a few of them are actually pretty good at it (at least, according to them). Stars like Taylor Swift, Kylie Jenner, Lea Michele, and more are known, in part, for their propensity to cook up a storm. Others still, like Chrissy Teigen, 2 Chainz, and Tia Mowry, have even taken things a step further and have gone on to produce their own cookbooks, TV shows, and more. 
Scroll below to read up on 21 celebrity foodies who can throw down in the kitchen.
1. Chrissy Teigen
PHOTO: Getty Images
Chrissy Teigen began her public foray into the food world several years ago by posting recipes she loved to cook or created herself on her blog and other social platforms. In 2015, she released her first cookbook, titled Cravings. You can still see Chrissy killing it in the kitchen on her Instagram and Twitter, usually featuring her family members as sous chefs.
2. 2 Chainz
PHOTO: YouTube
If In 2013, 2Chainz released a cookbook alongside his album B.O.A.T.S. II: #METIME, titled "#MealTime", which dished out tasty recipes and hilarious instructions like, "Put on your Versace apron."
3. Kris Jenner
PHOTO: Getty Images
Although she has quite the busy schedule managing the Kardashian clan, Kris Jenner enjoys taking time out of her day to cook up comfort food for her family. She enjoys it so much, in fact, that she released a cookbook titled, In the Kitchen With Kris: A Kollection of Kardashian-Jenner Family Favorites in 2014.
4. Kylie Jenner
PHOTO: YouTube
Much like her mother, Kris, Kylie Jenner is no stranger to the kitchen. She often appeared on Snapchat, taking us along with her as she cooked her favorite recipes. In 2016, the beauty-mogul began a "Cooking With Kylie" series for her app and website subscribers.
5. Lea Michele
Lea Michele often shares how she maintains a healthy lifestyle with her #WellnessWednesday Instagram story segments. Not to mention, the singer has an entire IG highlights section dedicated to her love of making soup from scratch!
6. Blake Lively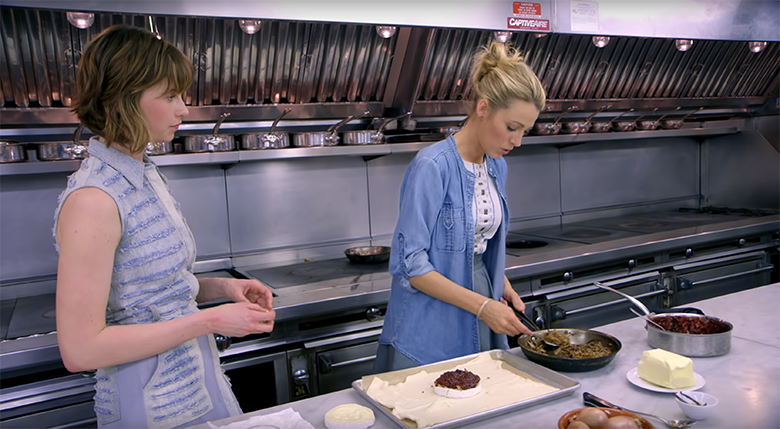 Blake Lively loves to bake. Although she's pretty modest about her skills, she baked an amazing beehive shaped birthday cake for Beyonce's birthday in 2014 and decorates macarons like a pro!
7. Snoop Dogg
PHOTO: Getty Images
Snoop's love for the kitchen actually stems from his (self-proclaimed) "unadventurous" palate. In cooking for himself, he can always have his favorite dishes, no matter what. He decided to share these recipes with us in his debut cookbook, From Crook to Cook: Platinum Recipes from Tha Boss Dogg's Kitchen. He also teamed up with Martha Stewart in 2016 for Martha & Snoop's Potluck Dinner Party, a fun cooking show featuring the two.
8. David Beckham
PHOTO: Getty Images
Much like many of the other celebrity foodies on this list, David Beckham has taken to Instagram stories to show off his cooking skills. The retired soccer player admits he has received some guidance in the kitchen from his good friend, chef Gordon Ramsay, who has taught him how to perfect his Beef Wellington.
9. Michael Buble
Prior to his musical debut, Michael Buble got his start in the kitchen as a boat cook and a fisherman. He fondly remembers watching his great grandmother cook effortlessly delicious meals as a child.
10. Taylor Swift
PHOTO: YouTube
Taylor's cooking has received the stamp of approval from many of her friends. She attests her cooking inspiration to chef, Ina Garten, whom she has been a fan of since she was a teenager. She has been known to whip up some of the best (and aesthetically pleasing) desserts for her own parties.
11.Gwyneth Paltrow
PHOTO: Getty Images
As the author and curator of several cookbooks, it is safe to say that Gwyneth knows her way around a kitchen. The Goop founder says, "My food comes from me and so it is true to me. I just know what I want to eat. And if I want something, or my family wants something, and it's on the restricted food or allergy list, I love to find my way around the obstacle. I'm all about finding my way around an obstacle."
12. Lady Gaga
Lady Gaga was raised in a family of good cooks. Her father, Joe Germanotta owns a successful Italian restaurant. Joanne Trattoria, in NYC. She enjoys cooking pasta dishes, making fresh ravioli with fillings from her personal garden.
13. Eva Longoria
PHOTO: Getty Images
Cooking is definitely Eva Longoria's love language; she has been whipping up delicious meals since she was a young girl and she considers it the best way to show appreciation to all of her loved ones. In 2018, she shared the love with the rest of us when she released her first cookbook, Eva's Kitchen: Cooking With Love for Family & Friends.
14. Kelis
PHOTO: Getty Images
Singer-songwriter turned chef, Kelis Rogers made her transition from music to food in the middle of her music career by attending culinary school. This eventually lead to her partnership with Andy Taylor, of the duo Le Bun and opening a pop-up restaurant at Soho's Leicester House hotel. She now has her own line of sauces, called Bounty & Full.
15. Justin Timberlake
Justin Timberlake and his wife, Jessica Biel love spending time in the kitchen together. He tells Jay Leno, "She likes to cook. I like to bake . . . so dinner and dessert."
16. Questlove
PHOTOS: Getty Images
The Root's co-founder and drummer, Questlove holds a food salon in his New York City apartment every few months with his chef friends. He has recently partnered with Williams-Sonoma on a line of popcorn seasoning.
17. Julia Roberts
PHOTOS: Getty Images
Julia Roberts is quite confident in her cooking skills, she tells E!, "I'm like a closet home ec teacher…I can really cook anything." She loves to cook for her family, especially during the holidays. Among all of the staple holiday dishes, stuffing is one of her favorites to make.
18. Bradley Cooper
PHOTO: YouTube
Bradley Cooper may have been playing a chef in the movie, "Burnt", but the cooking techniques he displays in the film are all him. The actor comes from a large Italian family who shared a deep love of cooking.
19. Anna Kendrick
PHOTO: Youtube
Each year, the actress gets into the holiday spirit with a huge batch of *perfectly* trimmed and decorated cookies.
20. Tia Mowry
PHOTOS: Getty Images
Tia currently has her own cooking program on the Food Network called Tia Mowry at Home. The actress loves to cook easy, one-pot meals for her family.
21. Trisha Yearwood 
Photo: Getty Images
We know that Grammy award winning country star Trisha Yearwood can sing, but did you know she has her own cooking show?Trisha's Southern Kitchen began in 2011 and boasts a whopping 11 seasons.
Chat About 21 Celebrities Who Are Great Cooks