Chance The Rapper Gives An Update On His Debut Album
By Lauren Crawford
April 11, 2019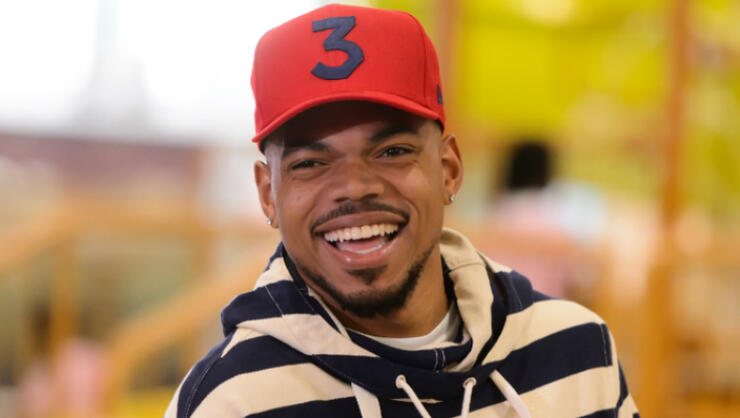 Chance the Rapper is hard at work on his debut album.
The Chicago rapper took to Instagram on Wednesday (April 10) to give his fans an update on this highly anticipated project, which marks the first album of his 7-plus-year career.
"I've been really happy the past few weeks. My wife gave me the go ahead to put everything else on hold and really go to work on my debut album," Chance captioned a random photo of the inside of his mini fridge, which was filled with juice. "Its been a lil hard at times, I obviously miss Chicago and family and working on other stuff, but there truly is no joy like making a project. Somehow I always forget that i'm so, so good at this. And every night i surprise myself again."
"July is gonna be bittersweet because as much as i can't wait to be done, the process is the best part," he added, confirming that the album will be released this Summer.
The soon-to-be father-of-two then gave a shoutout to his new wife, Kirsten Corley, who's expecting their second child. "Yall should thank Kirsten cause she dont gotta share me wit NOBODY. But she knows what i do and is handling this pregnancy and our family with so much grace," Chance continued. "Babe I have to appreciate u supporting me all these years and I swear i can't wait to get juked on to these new songs. 🍑💃🏾😈"
Earlier this year, Chance opened up about what separates his debut album from his previous mixtapes like Acid Rap and Coloring Book. "This my 1st album so its really good," he wrote on Twitter in a series of Tweet back in February. "I got real famous so I gotta lotta eyes on me that wasn't fans of me they just fans of whats popular. My first album is for my fans. I'll always be immensely proud of what I did with Coloring Book. Same Drugs, Summer Friends and Juke Jam are some the realest songs I've ever written so u dont have to defend Coloring Book to me. It happened, it made history but I did it already. The album wont be acid rap either."
Photo: Getty Images