Dee Snider Doubts Veracity Of Nikki Sixx's 'Heroin Diaries'
By Andrew Magnotta @AndrewMagnotta
April 11, 2019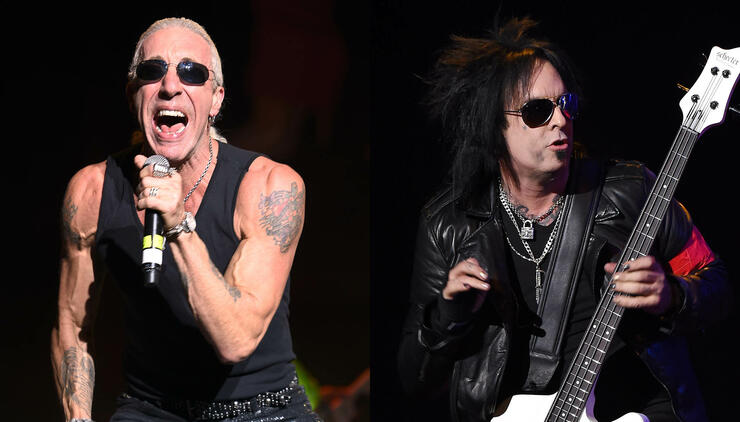 Twisted Sister front man Dee Snider says he thinks it's unlikely Nikki Sixx's book about the year he hit rock bottom with his heroin addiction is entirely true.
Snider added that he knows Sixx and likes him personally. But based on his experience knowing other heroin addicts when they were using, Snider doubts someone so dependent on the opioid would be cogent enough to document his or her addiction.
With the Mötley Crüe biopic, The Dirt, a frequent topic of conversation on social media, Snider responded to a Twitter user's comment about Sixx's 2008 memoir being "completely false."
"Can't speak of the truth of the Heroine [sic] Diaries or not, but having spent time with actual heroine [sic] addicts, I've never met one that could find his own d--k let alone a pen or pencil," Snider wrote. "And take notes on their heroine [sic] experiences or remember them to jot down later?! NEVER!!"
Snider conceded that he may have been needling Sixx a bit recently, but that doesn't mean he doesn't respect the bassist and what Mötley Crüe accomplished.
Snider also complemented The Dirt on an episode of his I Wanna Talk podcast, applauding the band members for not over-sanitizing the band's lifestyle for Netflix.
"This is a moment in time, you know?" he added. "I don't like the P.C. thing; I don't like the fact that we're so hyper-sensitive that someone can't make a movie like The Dirt, which is documenting a time that happened, the way it happened, as long as it's not making up lies. And it isn't."
He added that he hopes to have Sixx on an upcoming podcast.
"We've had interesting conversations because we both come from the same background. The music we love is very, very similar."
Photo: Getty Images
Chat About Dee Snider Doubts Veracity Of Nikki Sixx's 'Heroin Diaries'