Nipsey Hussle's Memorial: Words From Barack Obama, Lauren London & More
By Lauren Crawford
April 11, 2019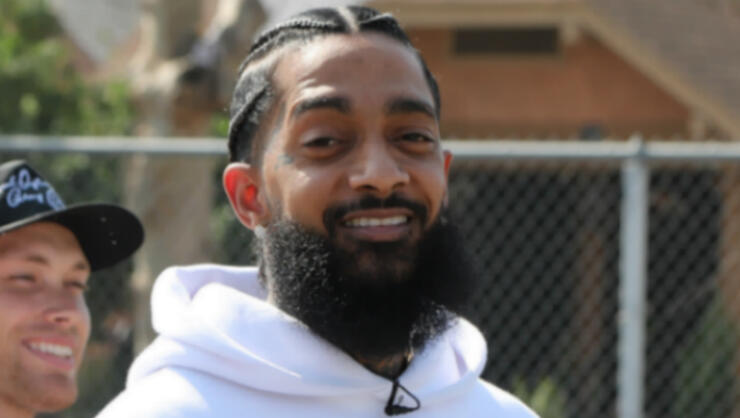 Nipsey Hussle's family, friends, and fans gathered to say their final goodbyes to the 33-year-old rapper and activist on Thursday (April 11). Nipsey's memorial service, which his family called a celebration of his life, was held at Los Angeles' Staples Center.
The service brought out some of the biggest names in entertainment, including Beyonce, Jay-Z, James Harden, Big Sean, Meek Mill, G-Eazy, DJ Khaled, Kendrick Lamar, LeBron James, The Game, Marsha Ambrosius, Snoop Dogg, Jhene Aiko, YG, Stevie Wonder, Big Boy, and many more.
The emotional service featured, a number of unforgettable moments, including the reading of a personal letter from former President Barack Obama.
Scroll on to see more of the moments we will never forget from the Celebration of Nipsey Hussle's Life.
Karen Civil Reads A Personal Letter, Addressed To Nipsey's Family, From Former President Barack Obama
"I've never met Nipsey but I've heard his music through my daughters," read part of the letter. "While most folks look at the Crenshaw neighborhood where he grew up and and see only gangs, bullets, and despair, Nipsey saw potential. He saw hope."
"His choice to invest in that community rather than to ignore it ... set an example for young people to follow ... [and] is a legacy worthy of celebration," the letter continued. "I hope his memory inspires more good work in Crenshaw."
Lauren London's Son, Cameron, Honors Nipsey As He Recalls A Recent Dream
"On the night of April 2 I had a dream I was in paradise and I was playing in the ocean water [when behind me] I saw Ermias ... He said, 'Whaddup killa? Cuz that's my nickname to him," Cameron said while on stage next to his mom, aunt, and younger brother Kross. "I told my mom about the dream and after I told her I was thinking about it and I realized that Ermias told me what heaven was like. He told me it was paradise."
Nipsey's Mother, Angelique Smith, Says She's In 'Perfect Peace'
Angelique called upon the family's ancestors to help him on his journey in the afterlife. "We ask them to be there and ask that they guide and protect the family," she said. "I know that we are all divine creatures. We are all divinity within. We don't need to look to the sky for God; God is within us."
"I have perfect peace. I'm happy. I am complete. I am strong," she continued." And if I can feel this way, so can you."
"We call on the creator of everything and on Mother Earth who sustains us," Angelique added. "We call on the energies who guide and protect us as we make our way in life. We call on our ancestors to join us at this service." Smith got emotional, as she said, "Everything is in perfect and divine order."
Nipsey's Brother, Samiel Asghedom, Remembers His Lil Bro With Stories Of Their Childhood
"We are all proud of him," Sam told the audience. "He loved everybody and he loved who he grew up with, where he grew up. He just wanted to inspire and always bring something back."
"Nip was about demonstrating ... he appreciated [the love]. That s**t meant a lot to him. And that s**t meant a lot to me," he continued. "You made the world proud. Look at this s**t, bro. ... The whole family appreciates everything. I hope he knows how much I loved him. I know he loved me."
Nipsey's Longtime Girlfriend Lauren London, Gives An Emotional Tribute To Her "King"
"Never was I prepared for anything like this," she began. "I had to write something because I've never felt this type of pain before. His soul was majestic. He was the strongest man that I ever knew," she explained of Nipsey, who she called her protector. "He was brilliant. He researched everything; completely self-taught and always seeking knowledge."
"My pain is for my 2-year-old, who probably won't remember how much his dad loved him," Lauren added. "I'm so honored and blessed that I got to experience such a man."
"This pain is really ours," she said to those of the Los Angeles community, explaining that she knows "everybody is hurting."
"We know what Nip meant to us," she continued. "We lost an incredible soul. We lost a real one. We won't ever be the same."
"But in Hussle's words, 'The game is going to test you, never fold. What's in you, they can't take away, and he's in all of us," she shared before concluding her speech with Nipsey's famous slogan, "the marathon continues."
Nipsey's father Dawit Asghedom Speaks Of His Son's Legacy
"At 33 years old he accomplished more than what [anyone can] accomplish," he said. "Maybe he accomplished his mission..."
"We have to keep his legacy and the peace he brought [alive]," he continued. "We have to follow what he would want us to continue."
Snoop Dogg Remembers His 'Brother' Nipsey With A Touching Speech
"I still remember when he pushed up on me with his tape," Snoop recalled. "Nipsey's line was, 'Hey homie, listen to my music. Just give it a listen.' [I said], 'That's it? No record deal?' To me he had vision."
"We ended up making music together, we created a brotherhood, a bond, something special," he said. "One thing me and Nip had [in common] was a kind spirit. A spirit of love. When we met each other it was like a magnet coming together."
Chat About Nipsey Hussle's Memorial: Words From Barack Obama, Lauren London & More