Five eSports Podcasts That Will Help You Up Your Game
By Bill Galluccio
April 12, 2019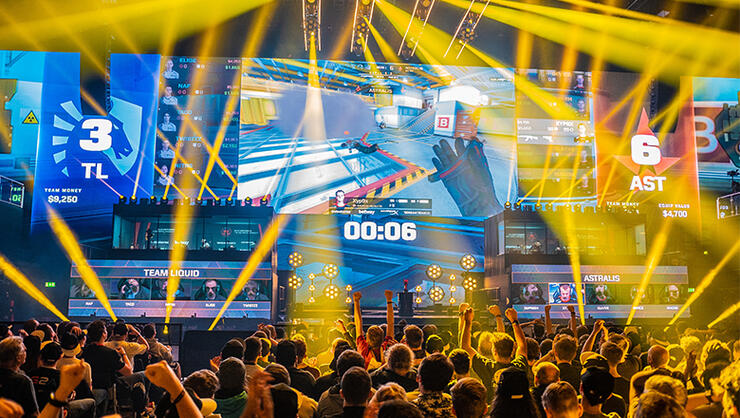 eSports is one of the fastest-growing forms of entertainment in the world. Millions of people are tuning in at home and even filling large arenas to watch their favorite gamers compete against each other in games like Fortnite, League of Legends, Overwatch, and Madden.
With so many games and competitive leagues to follow, keeping up to date with the latest news can be a daunting task. iHeartRadio can help with tons of great podcasts that will give you the latest news on your favorite teams and players, and keep you up to date on the latest updates on the games you love to watch and play. You can even pick up a few tips along that way that will help you step up your game.
Here are the top five eSports podcasts that you can find on iHeartRadio:
The Center Ring is one of the best eSports podcasts out there. Every week they break down the latest tournament results and dive into some of the most significant issues in eSports. In a recent episode, they explained why they aren't excited about the Overwatch playoffs and recap the Counter-Strike: Global Offensive Berlin Major Championship.
eSports Wrap is a tremendous weekly podcast that gives you a behind-the-scenes look at the gaming industry, delving into some of the biggest stories in the eSports and video game community. They recently broke down the problems that have plagued Anthem since its launch, and took a look at what wrong within Bioware and EA.
Project: eSports is a weekly podcast that features exclusive interviews with some of the biggest names in the video game industry along with the latest news and updates from around the world of eSports. They recently discussed the Collegiate eSports Championship, which is being hosted by ESPN, along with the decision of Ninja to quit playing Fortnite.
If you love Madden, FIFA, NBA2K or any other sports game, than this podcast is for you. Bruce and Dave break down everything you need to know about competitive sports gaming and do it under 30 minutes! Every week, they discuss the biggest tournaments, highlight draft strategies and give tips on how to improve your game so one day you can take home a trophy of your own.
Shaggy Matt Culbreath and Will Harrison are new to the world of eSports and offer a fresh take on the gaming world. They admit they are still learning and want you to learn some of the best tips and tricks to up your game right along with them. Every week, they have new interviews and break down the results of the biggest tournaments in the world.
With iHeartRadio, listeners can enjoy their music and podcasts across more than 250 unique device platforms including in-car, in-home, on wearables, across gaming consoles and more – making their favorite audio content available everywhere they are, on the devices they use most. Visit iHeart.com/apps to download iHeartRadio and listen on your favorite device now. You'll have access to news, sports and lifestyle info from your favorite personalities all for free, plus, click here for free podcasts like The Ron Burgundy Podcast, Atlanta Monster/Monster: The Zodiac Killer, Stuff You Should Know, Business Unusual with Barbara Corcoran, DISGRACELAND and hundreds of others.