Firefighters Save Notre Dame Cathedral From 'Total Destruction'
By R.J. Johnson - @rickerthewriter
April 16, 2019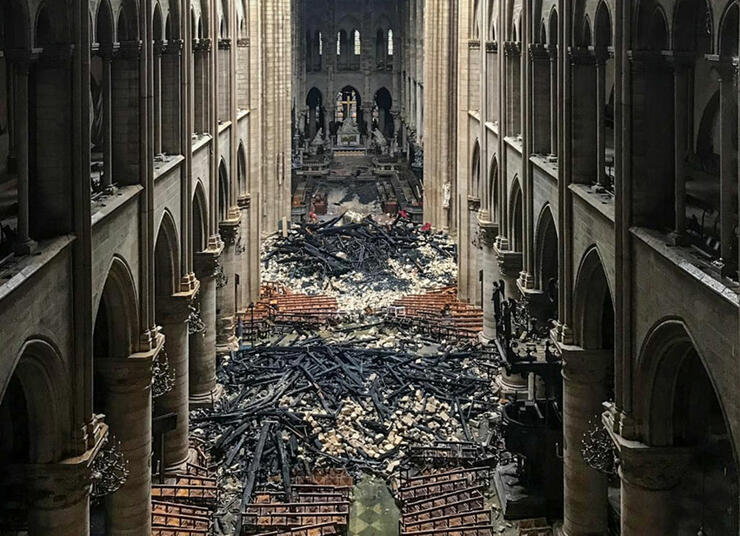 Firefighters in Paris say a blaze that threatened the famed Notre Dame Cathedral has been completely extinguished, saving the more than 850-year-old house of worship from 'total destruction.'
According to the Twitter account for the Paris Fire Service, firefighters were able to knock the blaze down at around 3:30 a.m. Tuesday morning, a little more than 12 hours after the fire began. A spokesperson for Paris firefighters said "the entire fire is out," and that officials were watching the structure for any signs of instability and hot spots to extinguish.
People around the world watched in horror after the fire consumed the world famous spire, causing it to collapse. Two-thirds of the building's roof was "ravaged" in the blaze, according to Paris Fire Chief Jean-Claude Gallet.
Firefighters were able to save the Parisian landmark's main stone structure. The building's twin bell towers also remained intact as did the 18th century organ.
Artworks contained within the cathedral are now being carefully removed and taken to Paris City hall and to the Louvre museum where they can be preserved and protected, according to a tweet from Paris Mayor Anne Hidalgo. Some of the items inside Notre Dame included the Crown of Thorns, which many believe was worn by Christ, and the Tunic of St Louis.
The famed rose windows' located on the north and south ends of the cathedral did not sustain 'catastrophic damage,' French Culture Minister Franck Riester told reporters.
Meanwhile, donations have poured in from around the world by people who want to help rebuild the cathedral. France's president Emmanuel Macron declared Monday that the country would "rebuild together." French cosmetics company L'Oréal, The Bettencourt Meyers family and the Bettencourt Schueller Foundation have promised to donate 200 million euros (around $226 million) for the restoration efforts. That's in addition to another 339 million euros promised by French tycoon Francois Henri Pinault and Bernard Arnault and his LVMH group, CNN reports.
The city of Paris and the French government are also expected to contribute money to the restoration efforts.
Pope Francis added his condolences for the people of France following the fire at the Catholic cathedral.
"Today we unite in prayer with the people of France, as we wait for the sorrow inflicted by the serious damage to be transformed into hope with reconstruction. Holy Mary, Our Lady, pray for us. #NotreDame," the pope wrote.
The Notre Dame cathedral is widely considered to be one of the world's most famous tourist attractions, with more than 13 million people visiting it every year. The structure was first built in 1163 AD and took nearly 83 years to complete.
Photo: Getty Images
Chat About Firefighters Save Notre Dame Cathedral From 'Total Destruction'