The Flaming Lips Are Giving Their New Album 'King's Mouth' A Wide Release
By Katrina Nattress
April 17, 2019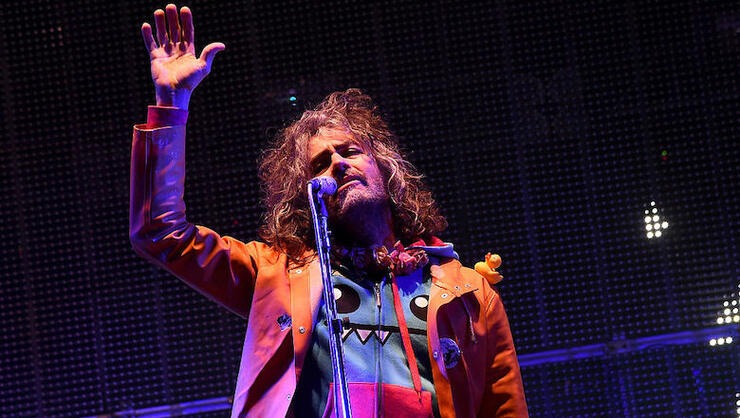 Record Store Day 2019 included limited edition releases from some of our favorite ALT artists like Foo Fighters, Pearl Jam, The Struts, and Greta Van Fleet; however, there was one record in particular that had audiophiles buzzing: The Flaming Lips' King's Mouth: Music and Songs. The prolific psychedelic rockers pressed their 15th album on special edition gold vinyl and limited it to 4,000 copies, which have all since sold out. If you weren't able to get your hands on one of the record though, fear not — the band is giving it a wide release.
On Wednesday (April 17) The Flaming Lips' record label, Warner Bros. Records, announced that King's Mouth will be released on all formats (CD, digital, and black vinyl) on July 19. The 12-song collection features narration from The Clash's Mick Jones and is the musical counterpart to frontman Wayne Coyne's art installation of the same name. A press release states:
Introduced in 2015, the installation has showcased its psychedelic visuals and soundscapes through North America in museums such as Meow Wolf in Santa Fe, NM, the American Visionary Art Museum in Baltimore, MD, the Pacific Northwest College of Art in Portland, OR and Wayne [Coyne]'s own creative space, The Womb, in Oklahoma City, OK. A true handcrafted marvel, it consists of a giant metallic head that welcomes spectators inside. Once inside of the foam month, an LED lightshow begins in tandem with music from the album. Now, the record doubles as the sonic companion to the exhibit and allows fans to experience the aural side at any time.
In addition to the visual and musical components is a literary tome titled King's Mouth: Immerse Heap Trip Fantasy Experience, which tells the story of a community mourning the noble death of a benevolent monarch through words and visuals by Coyne. "The King's Mouth immersive/child-like qualities are born from the same spark and womb as The Flaming Lips live performances," Coyne explains. "The King's Mouth adventure was made for humans of all sizes, ages, cultures, and religions."
Photo: Getty Images
Chat About The Flaming Lips Are Giving Their New Album 'King's Mouth' A Wide Release