911 Call Released in David and Louise Turpin Case
By R.J. Johnson - @rickerthewriter
April 18, 2019
The California couple who was thrust into the national spotlight after police discovered their 'House of Horrors' where they tortured most of their 13 children are scheduled to face a judge for sentencing on Friday. David Allen Turpin, 56, and his wife, 49-year-old Louise Ann Turpin pleaded guilty to multiple charges and are expected to serve a sentence between 25 years to life.
A never-before-heard 911 call obtained by ABC News revealed the chilling moments when one of the Turpin's daughters turned her parents in.
"My parents are abusive," the 17-year-old girl can be heard telling the operator. "My two little sisters right now are chained up right now... they're chained up to their bed."
The child, who sounds much younger than 17, can be heard reading her family's address to the 911 dispatcher on Jan 14 just before 6 a.m. When police arrived at the Turpins' residence in Perris, California, they discovered a "House of Horrors" where the children had been chained up for months at a time and regularly starved and beaten. The teen told police that the children never ate breakfast and only ate things like peanut butter, bologna, or frozen burritos or chips for lunch and dinner.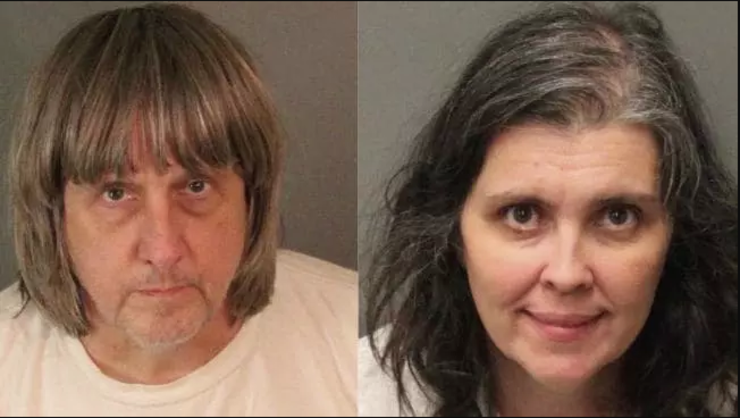 All the children, except for a toddler, were found to be severely malnourished with the oldest Turpin, who was 29, weighing only 82 pounds.
The Turpins were accused of abusing 12 of their 13 children, including occasions when they would shackle them to the bed, beat them and starve them on a regular basis. They pleaded guilty to one count of torture and one count of dependent abuse. They also pleaded guilty to multiple counts of false imprisonment, child endangerment and adult abuse.
The Turpins will be eligible for parole once the minimum time for their sentence is up.
Chat About 911 Call Released in David and Louise Turpin Case