Billie Eilish Gets Animated In 'You Should See Me In A Crown' Video
By Katrina Nattress
April 18, 2019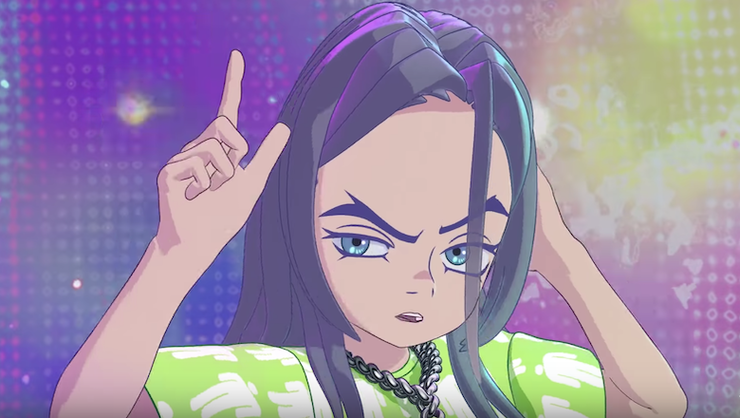 Billie Eilish got the animated treatment on her video for "you should see me in a crown," and collaborated with none other than Japanese contemporary artist Takashi Murakami for the project.
The clip begins with an anime version of the young star singing in a digitalized world. Things are all well and good, until she puts on a black hoody with a mutated version of her signature blohsh character graphic. Then all Hell breaks loose. The singer turns into a spider-like monster and wreaks havoc on an unsuspecting town of blohshes and Murakami's iconic rainbow flowers, munching up the residents before expelling a colorful venom that transforms the powerless blohshes into the mutated version on her hoody.
The video was made using special motion-capture technology. In a press release, Murakami detailed the creative process: "[Eight] months from start to finish, I sprinted throughout the production process with my animation team striving to realize Billie's vision in an unprecedented way."
"Murakami is an incredible visionary," Eilish added. "It was such an honor to collaborate with him and have our brains and our worlds collide for this video."
Watch the nightmarish "you should see me in a crown" video below.
Chat About Billie Eilish Gets Animated In 'You Should See Me In A Crown' Video