Reba + Brooks & Dunn See The Future Of Country Music In These Rising Stars
By Lauryn Snapp
April 18, 2019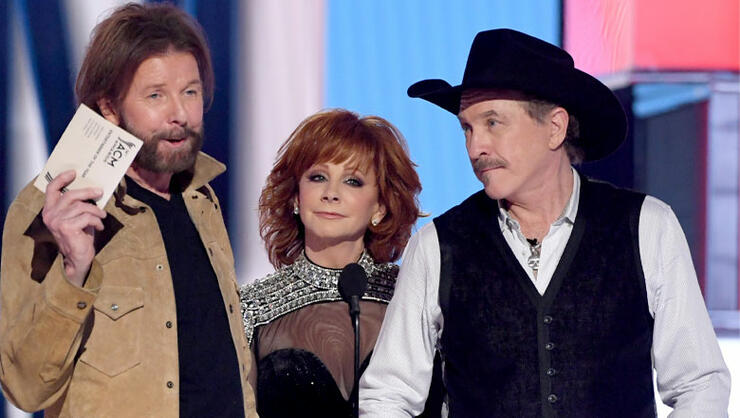 Brooks & Dunn are back on top of the Billboard Country Albums charts for the first time since 2009 with their latest 'REBOOT' project.
The duo recently recorded some of their biggest hits while collaborating with artists like Kacey Musgraves, Luke Combs, and Ashley McBryde to bring back the old school country with a new artist's vibe.
Backstage at the ACM Awards, Ronnie Dunn shared with Cody Alan that success is a "testament to the power of collaboration."
The recent Hall of Fame inductees recently, performed a remastered version of the classic hit, "Boot Scootin' Boogie" with Midland on Jimmy Kimmel. Kix Brooks shared with Billboard, "I love these songs, and we owe big thanks to all the amazing artists who brought them to life again…I don't ever remember having more fun in the studio."
Longtime friend, collaborator, and country music legend, Reba McEntire also jumped on board to say that shares the same vision for the future of country music and embraces the genre's new wave of up and coming artists like Ashley, Kacey, and newcomer Kelleigh Bannen.
Reba shared that she has a lot of hope for the future of the genre because of artists like Ashley McBryde saying, "You listen to Ashley McBryde songs [and] it's very traditional country…that's what I love hearing these new artists perform."
Take a tip from Reba and catch Ashley on the road with Miranda Lambert this fall on the 'Roadside Bars & Pink Guitars Tour.'
RELATED: Miranda Lambert Announced 'Roadside Bars & Pink Guitars Tour'.
Photo Credit: Getty Images.
Chat About Reba + Brooks & Dunn See The Future Of Country Music In These Rising Stars