Carrie Underwood Says Cute Workout Clothes Give Her A 'Little Boost'
By Katrina Nattress
April 19, 2019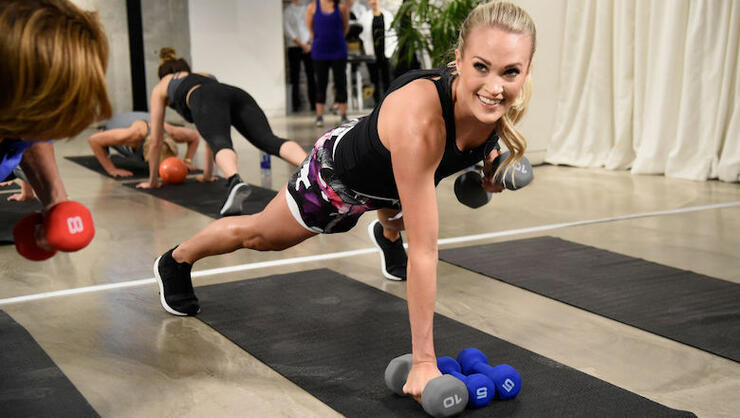 Carrie Underwood has always been all about fitness, but that mindset has been magnified in recent months as she recovers from giving birth to her second son Jacob Bryan in January and gears up for her massive Cry Pretty Tour 360, which kicks off next week. Last month, the country star posted a motivational message on Instagram, admitting it's been a little more difficult for her body to "bounce back" after baby number two and promising to keep up her routine and appreciate her body for what it can do rather than what it can't do.
On Thursday (April 18), the singer chatted with People about her secret inspiration. "Putting together a fashionable but also functional outfit gives me a little boost when going to the gym—especially when I need an extra push or I'm not feeling my best," she divulged. "I try to put a cute look together with my favorite pieces—a legging with a pattern on the bottom, and cute and comfortable tank, and a zip-up hoodie to complete the outfit."
That hasn't been hard to do with all the new gear Carrie's athletic clothing line CALIA is putting out for Spring. "Now that the weather is starting to get nicer, I've really enjoyed diving into our CALIA spring collection and putting together new, fun looks. We have a ton of spring pieces in this new dusty pink called Mesa Rose, and every time I wear it I think ahead to the warm weather that's right around the corner," she said before adding, "[warm weather] makes me excited for everything that's to come over the next few months, and I get ready to start my tour in May."
Carrie's Cry Pretty Tour 360 kicks off May 1 in Greensboro, North Carolina, and hits 55 arenas throughout the U.S. and Canada.
Photo: Getty Images