Lovelytheband Fights For LGBTQ Rights With New 'Maybe, I'm Afraid' Video
By Katrina Nattress
April 19, 2019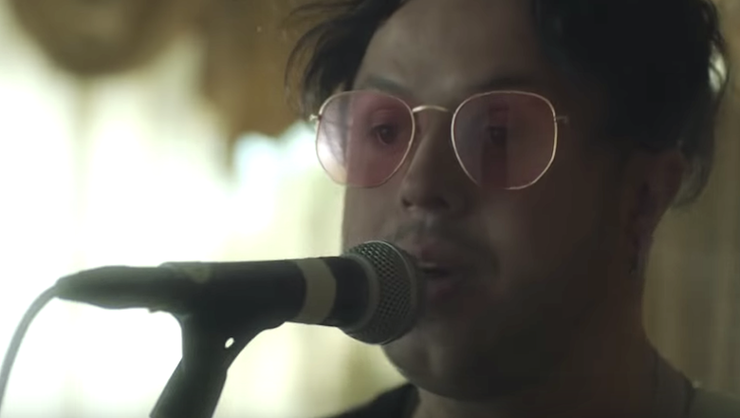 Earlier this year, lovelytheband shared a video for their single "Maybe, I'm Afraid" that displayed the song's themes through an animated story. On Friday (April 19), the SoCal trio released a second video that tells one particular person's story. One that singer Mitchy Collins tells Rolling Stone they "felt was important to tell."
The clip follows a man on his wedding day reflecting on what got him to this point. It begins with him gazing at a photo of himself as a boy and goes through his childhood, teenage years, and beyond while he emotionally struggles with his identity. Eventually, the ceremony begins and we see the character happier than he's ever been, as he says "I do" to his husband.
"There are so many things that we experience or believe that keep us from truly embracing who we are," Collins says. "As hard as it may be, [band members] Jordan, Sam and I feel true happiness comes when you start to fall in love with yourself."
The band partnered with the Beyond I Do organization, which brings awareness to the discrimination the LGBTQ community still faces in America. "The reality is that in 30 states LGBTQ people don't have comprehensive protections from discrimination in housing, employment or services!" says Collins. "We feel that equality is a right that everyone should have, regardless of who you love. We immediately wanted to get involved and help in any way we could."
With the video, Collins hopes to speak to those who will personally grasp on to the message. "No matter what they have gone through in their life, no matter what their personal struggle is, maybe this video can help them realize that being comfortable with exactly who they are is everything that they need to be happy," he says. "Our goal is to help promote acceptance, empathy and understanding for all LGBTQ Americans."
Watch the emotional "Maybe, I'm Afraid" video below.