Michael Ray Makes a Signature Cocktail for His Wedding to Carly Pearce
By Taylor Fields
April 19, 2019
Michael Ray may be singing about "The One That Got Away" on his new single, but in the last year or so, he's found the one that's here to stay forever, as he got engaged to mega-talented country cutie Carly Pearce.
While the couple is planning out their wedding day, Ray showed us how to make a drink that will most certainly be on he and Carly's signature cocktail menu at their upcoming nuptials, and it's a classic: The Moscow Mule.
Michael tells us of the drink, "Moscow Mule, I feel like, is one of those drinks that kinda just goes with anything, whether it's a hangout party, something as classy as wedding (that I happen to know a lot about). I'm in the middle of approving pretty much what you see here and that's our bar list." He adds, "Moscow Mule is definitely gonna be on our list of signature drinks at our wedding. We're gettin' married this year in Nashville, Tennessee back where we live and Moscow Mule's just a great daytime drink. You don't have to dress up for it, but if you dressed up while you're drinking it, the cup's copper, you're gonna feel classy as hell."
Find out how to make it below.
MOSCOW MULE INGREDIENTS:
2 Ounces Tito's Vodka
.5 Ounces Fresh Lime Juice
4 Ounces of Ginger Beer
1 Lime Wedge
DIRECTIONS:
STEP 1: Start with a copper mule cup
"It's not a mule unless you have a copper mule cup."
STEP 2: Fill with ice
STEP 3: Add 2 ounces of Tito's Vodka
"Alright, you got my personal favorite, Tito's Vodka. Now, it says two ounces. See, I think I'm drinkin' alone in this, so we might put a little more in there. But your proper Moscow Mule is two ounces. In a Michael Ray Moscow Mule? Who knows. Depends on the day."
STEP 4: Add half an ounce of fresh lime juice
STEP 5: Add four ounces of ginger beer
STEP 6: Add a lime wedge
"Make it good and elegant, [and] get yourself a nice little lime wedge."
CHEERS!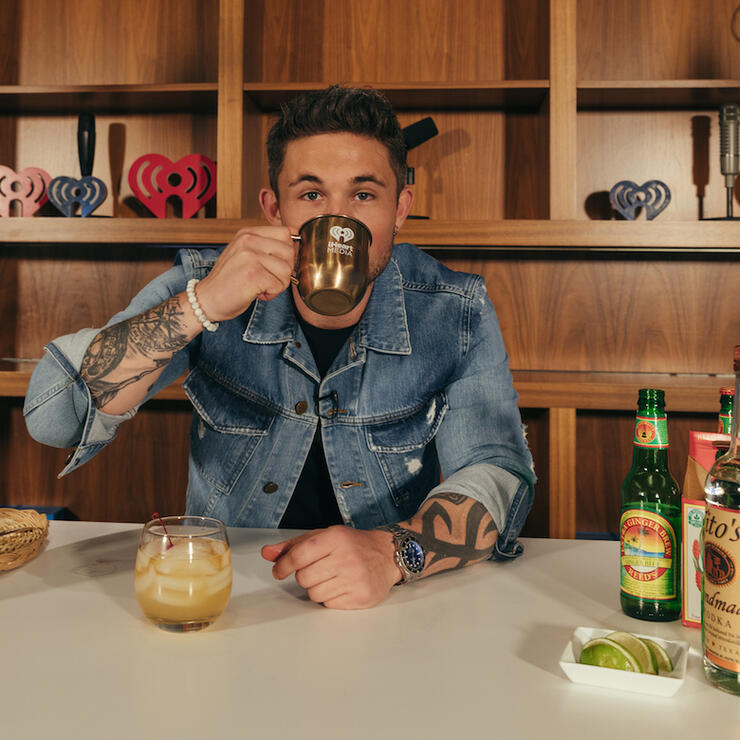 Chat About Michael Ray Makes a Signature Cocktail for His Wedding to Carly Pearce