'Game of Thrones' Recruits Florence + The Machine For 'Jenny Of Oldstones'
By Katrina Nattress
April 22, 2019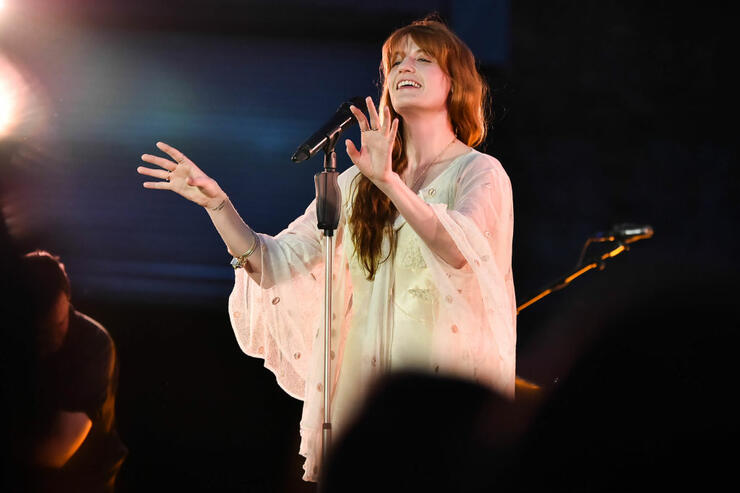 **WARNING SPOILERS AHEAD**
Game of Thrones gave us the calm before the storm on Sunday (April 21) with Season 8, Episode 2: "A Knight of the Seven Kingdoms." As our heroes spent what may be their last hours alive in different ways, the brothers Lannister hosted a night of drinking by the fire, in which Brienne of Tarth, Tormund Giantsbane, Podrick Payne, and Ser Davos joined. As they finished their wine, Tyrion asked if anyone knew a song. While everyone shrugged, Pod began to sing "Jenny's Song," a tune those familiar with the books have heard before. The haunting lyrics fit the somber mood as he sang "High in the halls of the kings who are gone/ Jenny would dance with her ghosts/ The ones she had lost and the ones she had found/ And the ones who had loved her the most."
While Winterfell stared down the White Walkers as they approached the castle in the episode's final shot, the show cut to the credits and we were gifted with a beautiful rendition of the song, retitled "Jenny of Oldstones," performed by Florence + The Machine.
"We've always been huge fans of Florence's music, and the season 2 trailer with her song 'Seven Devils' was possibly the most powerful we've ever had," show creators David Benioff and D.B. Weiss said in a statement. "So the opportunity to hear her otherworldly voice on our show was always at the forefront of our minds. We're still pleasantly shocked that she agreed to sing 'Jenny of Oldstones,' and we're in love with the result."
"When I first heard the song it sounded like a Celtic lullaby to me," said lead singer Florence Welch. "Celtic music has always been in my blood, so I felt like I could do something with it. The magic and ritual in Game of Thrones, not to mention the costumes, have always appealed to me. I am honored to be a part of the final season."
The song may be more than just a nod to the books, as its story could help foreshadow the Prince Who Was Promised prophecy. For more details concerning its importance to the show, check out Polygon's expert dissection.
Listen to Florence + The Machine's "Jenny of Oldstones" below.
A soundtrack of music inspired by Game of Thrones is coming this Friday (April 26). We've already heard songs from Maren Morris and The Lumineers, with many more contemporary voices contributing to For the Throne.
Photo: Getty Images
Chat About 'Game of Thrones' Recruits Florence + The Machine For 'Jenny Of Oldstones'