Pink Won't Post Her Kids On Social Media After Mom-Shaming: People Are Mean
By Emily Lee
April 22, 2019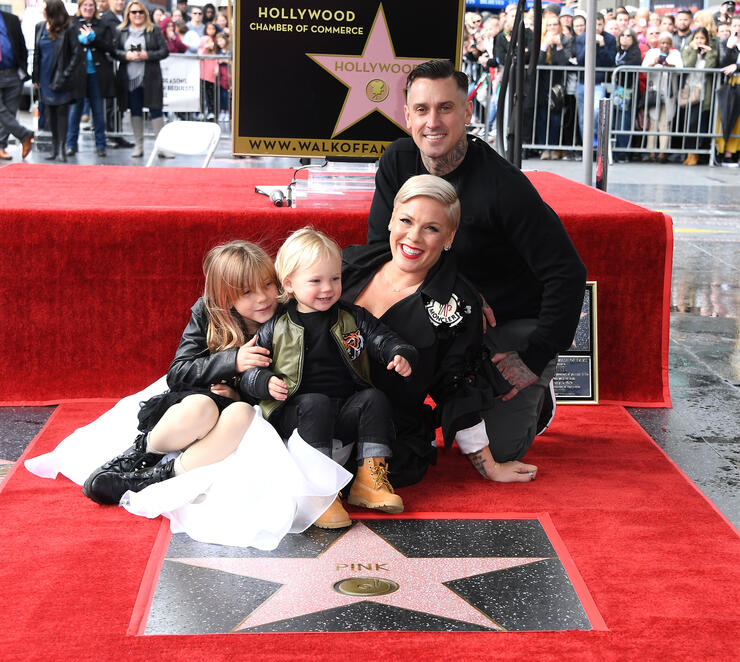 Pink is done with mom-shaming. The "Walk Me Home" singer often shares adorable photos and videos of her two kids, 7-year-old Willow and 2-year-old Jameson, on Instagram, though she revealed during an appearance on The Ellen Degeneres Show she will no longer post about her children online. Following a particularly ugly mom-shaming incident, Pink is taking Willow and Jameson offline.
Host Ellen Degeneres sparked the discussion by showing a funny video of Jameson yelling "dammit" while playing with his toy cars. Despite the video being super cute, Pink revealed she was ruthlessly mom-shamed over it. "So many people on social media go in on me all the time and this one, some people were like, 'Nice language. I'm sure that came from you.' And 'What kind of a mother do you think you are?'" Pink said. "Then somebody wrote, 'I'm a speech pathologist at the university of blah blah blah and I thought his... timing was just perfect. You have a very smart kid.' And I'm just reading like, 'I don't understand positivity.'"
In the past, Pink has clapped back at trolls who leave hateful comments about her parenting style on posts featuring her kids. Now, though, she's starting to reconsider. "I have to sometimes... Sometimes I feel like I can change their minds," she said. "I'm all about injustice. I don't like injustice. And I don't like how brave people are anonymously. And rude! Just mean. Mean spirited. And so I do. I go in. If I have time I go in."
Pink recounted the recent incident that pushed her over the edge. The 39-year-old singer shared a photo of herself, Willow, and Jameson playing with a pelican. In the picture, Jameson wasn't wearing a diaper, which some people took offense to. They quickly let Pink know how they felt.
"There's two sides to this, I see. And one is... I didn't look at the picture that way. I looked at it from, there was a pelican that flew into our room. It spent two hours with us, which was incredible," Pink explained. "And then I got worried it was sick and I tried to call the animal rescue. No one wanted a pelican and it just became a whole thing. We tried to give it some smoked salmon. It was the only thing we had that was, like, fish!"
"It was this incredible experience for my family and I have a two year old. Two year olds don't like to wear wet swim diapers and apparently at some point he took it off. And I don't think like that," Pink continued. "We live on a farm. My kids are naked. It's what happens. I'm naked sometimes!"
"I cried. I cried so hard after that because I like to share my family. It's my proudest moment in my whole life. I'm prouder of my kids than anything I've ever done," she said, even tearing up as she recalled the story for Ellen. "And I just won't share them anymore. I won't do it. I'm not posting pictures of them anymore."
"There's a way to do things and that mean stuff, that ain't it," Pink concluded. "It's also a good time because [Willow's] seven now, it's probably time to pull her back from the world and let her just live her best life."
We'll miss seeing Pink's adorable kids on social media, but Pink knows what's best for her family. Hopefully, this is the last incident of mom-shaming she'll experience.
Photo: Getty
Chat About Pink Won't Post Her Kids On Social Media After Mom-Shaming: People Are Mean