Feeling Lucky? These Are The States Most Addicted to Gambling
By R.J. Johnson - @rickerthewriter
April 23, 2019 Gambling is a proud American tradition. From stories about immigrants who sailed to the New World in search of a better life, to people who have an idea that becomes a billion dollar industry - gambling has always been a part of growing up in America.
That's why gambling exists in every state - even in places like Hawaii and Utah where it's prohibited by law. You can't keep people from betting on the outcome of a game or roll of the dice. Heck, that's why Powerball jackpots have begun skyrocketing in recent years as people snatch up tickets in search of an easy win.
Of course, there's a difference between 'fun' gambling and 'problem' gambling. In fact, up to 3 percent of Americans are diagnosed with 'Gambling disorder', which according to the Mayo Clinic, can "stimulate the brain's reward system much like drugs."
Fun gambling is one thing. Addiction can lead to real problems. One study shows that residents in the U.S. lose over $100 billion every year in total gambling losses. Men are often spending more than women with male gambling addicts accumulating an average debt of $55,000 to $90,000. Female gamblers average around $15,000 in debts related to gambling losses.
That means addicts will often have trouble paying back what they owe and even rob Peter to pay Paul, in an attempt to chase that winning feeling once again.
Not all states are created equal when it comes to gambling addictions. Personal finance website WalletHub examined all 50 states to see where excessive gambling can be found. From the amount of illegal gambling operations to lottery sales per capita, the results may (or may not) shock you.
Thanks to the Mafia, Las Vegas was quickly dubbed as the center for gambling earlier this century, making it no surprise that Nevada is #1 for gambling addicted states in WalletHub's survey. The Silver State not only has the most casinos per capita, the state can also boast having the most gaming machines per capita. In fact, Nevada has more than 164,000 slot machines in casinos across the state. Believe it or not, that's actually a decrease from a high of 213,800 slot machines back in 2000.
You also won't have to drive too far to find a casino in Oklahoma and South Dakota, who tied for 1st with Nevada in having the most casinos per capita. New Mexico and Montana come in at 4 and 5 respectively.
Residents in Rhode Island, Massachusetts, Delaware, Maryland, and West Virginia all tied for having the highest lotto sales per capita. That could have something to do with the abundance of lotto games and few casinos in those states.
On the other hand, if you're looking to get away from the casino floor, you could move to Georgia, New Hampshire, Tennessee, Utah or Vermont. Those states have the fewest casinos per capita, which means people have fewer opportunities to lose their bankroll there.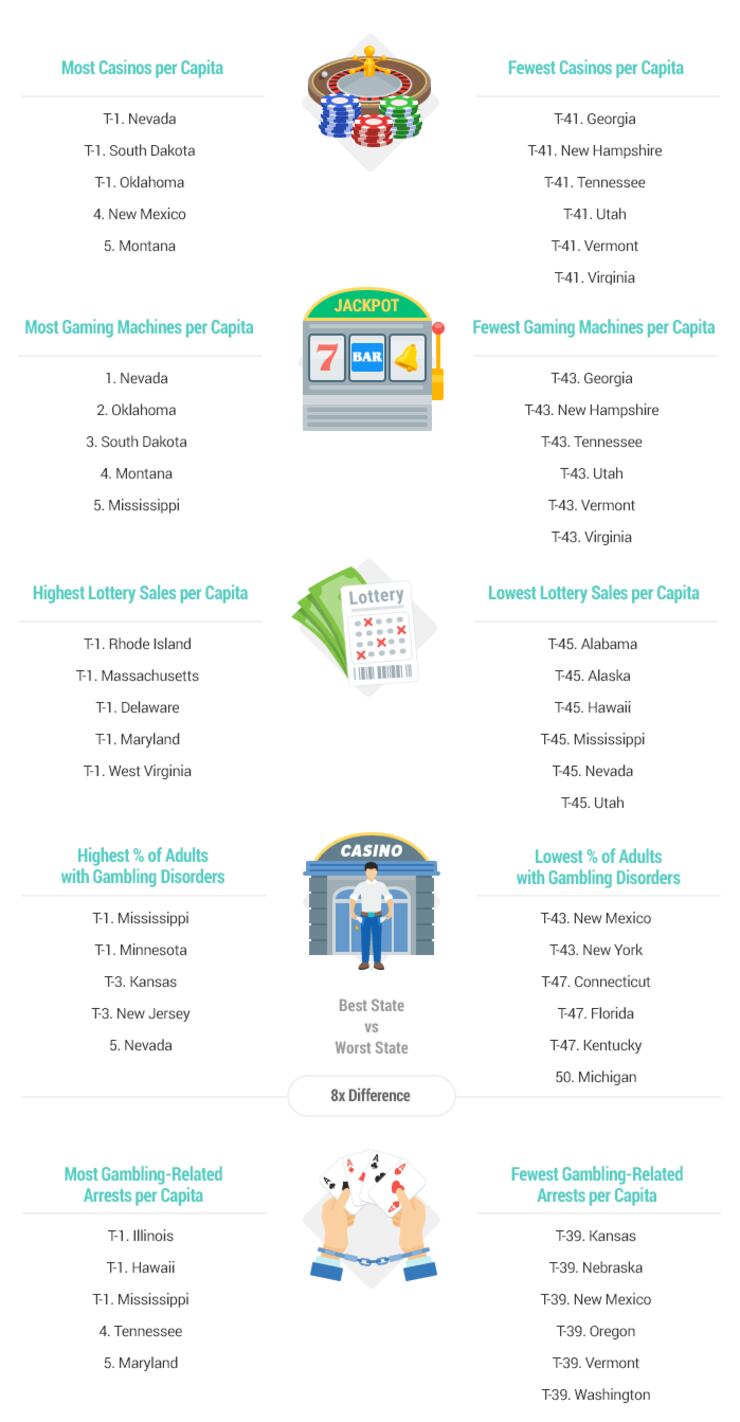 Of course, while having a good time at the casino can make a lot of good memories, many people can have problems differentiating 'fun' gambling from 'problem' gambling.
Experts say 'fun' gambling turns to 'problem' gambling when a person:
Needs to gamble with increasing amounts of money in order to achieve the desired excitement.
Is restless or irritable when attempting to cut down or stop gambling.
Has made repeated unsuccessful efforts to control, cut back, or stop gambling.
Is often preoccupied with gambling (e.g., having persistent thoughts of reliving past gambling experiences, handicapping or planning the next venture, thinking of ways to get money with which to gamble).
Often gambles when feeling distressed (e.g., helpless, guilty, anxious, depressed).
After losing money gambling, often returns another day to get even ("chasing" one's losses).
Lies to conceal the extent of involvement with gambling.
Has jeopardized or lost a significant relationship, job, or educational or career opportunity because of gambling.
Relies on others to provide money to relieve desperate financial situations caused by gambling.
Robert Leeman, an associate professor at the University of Florida says treatment options are available for people who may be having a problem keeping their wallets away from the casino or scratch-off tickets.
"Friends and family can encourage those with a possible gambling problem to see their doctor," said Leeman. "While there is not any one therapy with standout evidence for its efficacy, there is evidence that certain forms of psychotherapy help with gambling and medications including antidepressants and there is some evidence that opiate antagonists FDA approved to treat alcohol and opiate use disorder also have evidence in treating gambling disorder."
If you know someone who could use some help with their gambling, resources are available on the National Center For Responsible Gaming as well as the Centre for Addiction and Mental Health (CAMH).
Photos: Unsplash, WalletHub