Mark Ruffalo Learning Brie Larson Was Also In '13 Going On 30' Is So Cute
By Emily Lee
April 23, 2019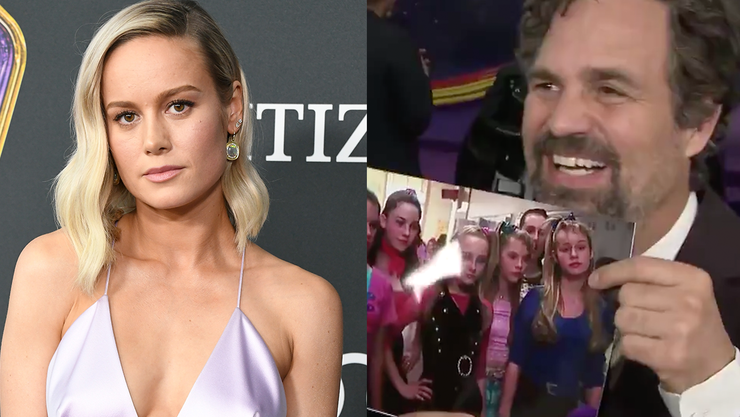 Can you believe it's been 15 years since 13 Going on 30 premiered? The beloved rom-com has more than held up over the years. Not only did Ariana Grande pay tribute to the film in her "thank u, next" music video recently, 2019's hit rom-com Isn't It Romantic made reference to it as one of the genre's classic entries.
While everyone remembers Jennifer Garner and Mark Ruffalo's performances as Jenna Rink and Matty Flamhaff in 13 Going on 30, another huge star also appeared in the film. Yup, Brie Larson was one of the "Six Chicks" in the beginning of the movie. It's okay if you didn't realize Captain Marvel was in this sweet early aughts rom-com, though, because Ruffalo didn't either. Don't worry, though, Entertainment Tonight told the actor that Avengers: Endgame isn't the first time he's co-starred in a film with Larson and he had the cutest reaction.
"She was a mean girl! Oh my god. That's amazing. Wow, I didn't know that," Ruffalo said with a huge smile and laugh at the Los Angeles premiere of Avengers: Endgame. "How cool. Wow. How come I didn't know that?"
Ruffalo and Larson didn't share any scenes together in 13 Going on 30, which is likely why he had no idea she played one of the "Six Chicks." Both actors, though, have fond memories of their time on that set. Larson said her experience working on that movie taught her she wanted to one day direct films herself. Ruffalo went on to call it a "lovely little movie."
Garner also showed some love for 13 Going on 30's 15th anniversary on Instagram on Tuesday (April 23). She wrote about the memorable sleepover scene, telling her followers it was exactly as much fun as it looked on screen. "I loved my day with this slumber party crew: they danced with abandon and reminded me of the power of just saying yes—to being in a group, to vulnerability, to wearing a bra over your clothes," Garner wrote. "Imagine if every 13 year old girl had an opportunity to dance and feel beautiful like the girls in this film."
Garner even gave a special shoutout to Grande for her "thank u, next" tribute at the end of the post. She also reminded us that so many familiar faces appeared in this film before they went on to become big stars themselves, including Larson, Ashley Benson, and Brittany Curran.
Okay...time to go home and rewatch 13 Going on 30 ASAP. Maybe we'll spot another famous face we didn't know was there.
Photo: Getty/Entertainment Tonight
Chat About Mark Ruffalo Learning Brie Larson Was Also In '13 Going On 30' Is So Cute