Sting Announces Las Vegas Residency In 2020
By Andrew Magnotta @AndrewMagnotta
April 24, 2019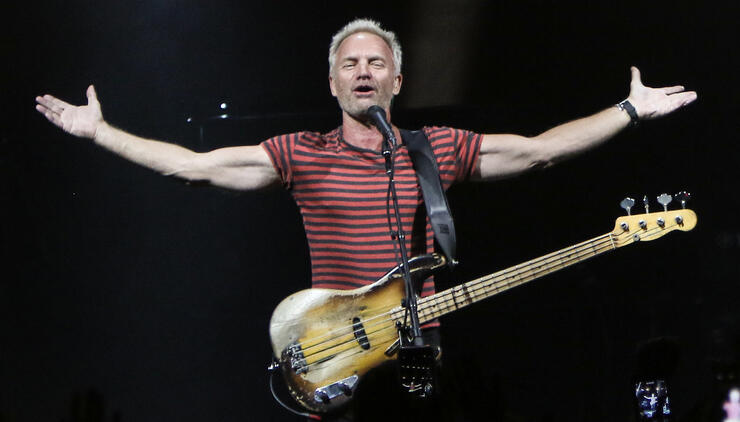 Sting is bringing his classic catalog to Las Vegas in 2020 with a newly announced residency at Caesar's Palace.
The 16 concerts are part of a run of shows called 'My Songs,' tying the affair in with the rock icon's forthcoming album of the same name due out May 24.
The album features re-imagined arrangements of tracks from Sting's Rock and Roll Hall of Fame career with The Police, plus his solo catalog.
A release Tuesday regarding the residency described the shows as "a compendium of Sting's songs with dynamic, visual references to some of his most iconic videos and inspirations."
The first dates of the 'My Songs' residency aren't until May of next year, but Sting's fan club members can reserve their seats as early as Thursday, April 25. Citi cardmembers can get their tickets as early as Monday, April 29. See the full Las Vegas schedule below.
Sting will be touring Europe all spring and summer with a handful of North American shows. Get all of his live dates here.
Sting 'My Songs' Residency 2020 at The Colosseum at Caesar's Palace
5/22 – Las Vegas, NV, The Colosseum at Caesar's Palace
5/23 – Las Vegas, NV, The Colosseum at Caesar's Palace
5/27 – Las Vegas, NV, The Colosseum at Caesar's Palace
5/29 – Las Vegas, NV, The Colosseum at Caesar's Palace
5/30 – Las Vegas, NV, The Colosseum at Caesar's Palace
6/03 – Las Vegas, NV, The Colosseum at Caesar's Palace
6/05 – Las Vegas, NV, The Colosseum at Caesar's Palace
6/06 – Las Vegas, NV, The Colosseum at Caesar's Palace
8/15 – Las Vegas, NV, The Colosseum at Caesar's Palace
8/19 – Las Vegas, NV, The Colosseum at Caesar's Palace
8/21 – Las Vegas, NV, The Colosseum at Caesar's Palace
8/22 – Las Vegas, NV, The Colosseum at Caesar's Palace
8/26 – Las Vegas, NV, The Colosseum at Caesar's Palace
8/28 – Las Vegas, NV, The Colosseum at Caesar's Palace
8/29 – Las Vegas, NV, The Colosseum at Caesar's Palace
9/02 – Las Vegas, NV, The Colosseum at Caesar's Palace
Photo: Getty Images
Chat About Sting Announces Las Vegas Residency In 2020